In October – British autumn, wild chestnuts are ripe. Wild chestnuts can be seen everywhere in the park, in the forest and by the rivers. A gust of autumn wind wind blows, and what falls from the sky is not only the golden fallen leaves, but also the surprise smashed from time to time.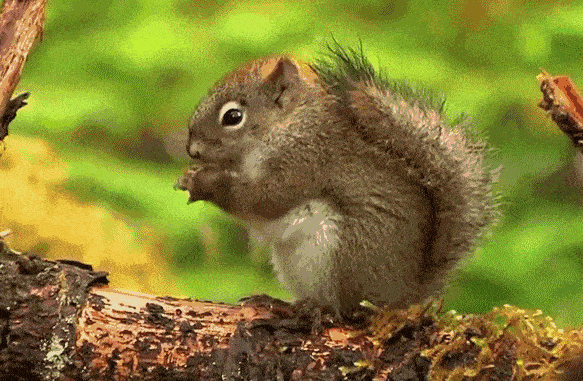 The squirrels can't wait, so why don't you come with me!
Popular places to pick up chestnuts
It is said that chestnut trees were first brought to England by the Romans and then spread throughout Southwest England, and there are also many chestnut trees in London. Chestnuts are a gift from nature, and collecting chestnuts is an autumn activity for local families.
Chestnuts are actually easy to find in the UK, and most areas have chestnut trees, but the most common places are some parks in London, such as Hyde Park, Greenwich Park, etc. There is even a famous "Chestnut Trail" in Epping Forest in the eastern suburbs of London! )! We recommend a few popular places to pick up chestnuts.
Greenwich Park
Greenwich Park is a gathering place to collect chestnuts! As the oldest royal park, the baroque chestnut avenue in Greenwich Park is full of chestnut trees.
Chestnut trees here were planted in 1660, the oldest chestnut tree has more than 300 years old, eat one do not know whether it is considered to suck the essence of heaven and earth 300 years ago it.
Hampstead Heath
Hampstead Heath Park is surrounded by meadows and woodlands and was once known as the "lungs of London". If you're looking for chestnuts, take a walk around Kenwood and you'll be pleasantly surprised.
In addition to harvesting nuts, you can also enjoy London's autumn scenery by visiting Parliament Hill, which offers a great view of the city from afar.
Windsor Great Park
Windsor Great Park is very green, and there is a big chestnut tree at the entrance of the park, so you can see chestnuts all over the park as soon as you enter.
There are also many chestnut trees near Windsor great park, and you can fill a big bag full of them to go back.
Hyde Park
Most of Hyde Park's chestnut trees are planted near the lake, or south of Kensington Gardens. The soil and geography are unique, and the chestnuts here are said to be sweet and delicious, but they are also very crowded.
Epping Forest
This forest in northeast London was once the Royal Forest and is now managed by the City of London. The area is very vast and contains woodlands, grasslands, rivers, marshes, ponds and other natural landscapes. Many people like to come here in the fall to gather nuts.
In Epsom Woods alone there is a walking route 5 miles long covering 3.3 miles. It is probably because it is easy to pick up nuts here, so one of the trails here is directly called the "Chestnut Trail", in which it is very pleasant to pick chestnuts while taking a leisurely walk with your family.
Gloucestershire
There is a 600-year-old chestnut tree in Tortworth, Gloucestershire, on the footpath leading to St Leonard's Church, but the tree's ornamental value probably outweighs its picking value.
Is there any difference in the fruit produced by a 600-year-old chestnut tree? You can taste it yourself if you have the chance.
Notes on picking chestnuts
Not all chestnuts are edible
In the UK, there is a seven-leaf tree, commonly known as the horse chestnut tree, which looks like a cousin to the sweet chestnut tree.
However, the fruit of the hepatica tree is poisonous and can cause vomiting and paralysis. The so-called pick up the right roast chicken, pick up the wrong send to the doctor, must be distinguished!
So how exactly do you tell the difference?
Both kinds of chestnuts are wrapped by a thorny outer skin, the horse chestnut is usually wrapped in a green hard shell, and the spines of the shell are thick but relatively sparse, short and soft, and do not stick, and the color of the leaves is much darker than the chestnut leaves. Chestnut shells are smooth in appearance, without a small tail, and very bitter to eat.
The shell of chestnut, on the other hand, is densely packed with spikes, a bit like a sea urchin or a scaled-down version of a hedgehog, and feels easy to touch.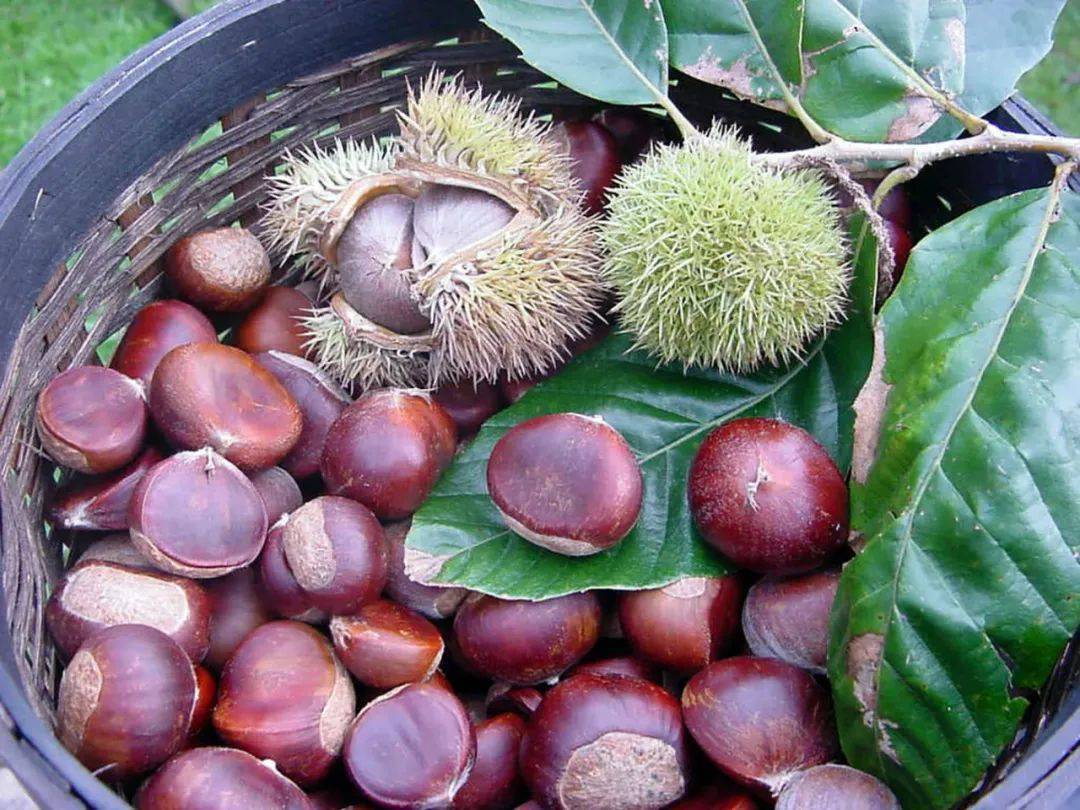 After peeling the shell, the fruit is taken out with a pointed head, like a small tail. So, as long as there is a small tail, you can basically confirm that the chestnut is picked up!
The shape of chestnut is flat at one end and round at the other. The horse chestnut, on the other hand, is round and naked throughout.
Although edible and poisonous, it is common to see British people picking up horse chestnuts in the park because they are the props that many British people have been using since childhood to make a game called Conker.
A thick thread is threaded through a horse chestnut, tied in a knot at one end, and then the two chestnuts are allowed to hit each other, with the first player to smash the other chestnut winning. Every autumn, there is also a "horse chestnut beating" competition in London and Peterborough. In Northampton, not far from London, there is even a tournament that has been held since 1965 – the "World Conker Championship", in which hundreds of players compete every year.
The older generation of British people like to put horse chestnuts in windows and doorways to repel spiders. Although this currently has no scientific basis, many British natives insist it is an old English recipe for repelling insects.
Not all the chestnuts you can eat can be picked
Chestnuts are delicious, but not all places are free to pick them. Richmond Park, the largest park in West London, has many chestnut trees, but it is expressly forbidden to pick chestnuts. This is because the wild deer, squirrels and other small animals in Richmond Park depend on eating chestnuts to survive the winter. The British attach more importance to ecological protection than to satisfying human mouths.
First of all, picking is prohibited in many places, and many parks or wilderness areas will post signs, so read them before you start foraging.
Some eager partners in order to pick more will go to shake the tree, shaking the tree is usually also prohibited, only picking those that fall from the ground.
In addition, if you want to enter private territory, it is best to get the owner's permission in advance.
Remember to wear a hat
When the autumn breeze blows, what falls may not be leaves, but heavy and solid chestnuts.
If you go to the park to pick up chestnuts, remember to put on a thick hat, otherwise the shell full of spikes in case they hit your head, it can really hurt.
Wear a thick-soled shoe or gloves
Fully ripe chestnuts will fall off when the autumn wind blows. The shell of chestnuts is full of spikes, so it is best to wear gloves when picking them up in order not to get stung.
The chestnuts that fall off are usually cracked and there are two or three chestnuts in each green spiny ball. However, if you want to take out the chestnuts from the ball, you have to be careful, because the "power" of the small thorns is not ordinary.
If the thorns on the shell of the chestnut make it impossible to get down, step down with the thick sole of the shoe along the sides of the crack, and the chestnuts inside will roll out. Cloth shoes are not recommended because the small hairs and thorns on the chestnut shells will stick to them and are not easy to clean.
As long as you can be quick to pick them up before the squirrels, you can pick up a pocket full of them in no time.
But these wild chestnuts and artificially grown chestnuts compared to the starch content is lower, also more astringent, the taste is average. However, it is fun to come to the park and enjoy the autumn while collecting chestnuts in the British autumn.