At Christmas markets in the UK, you can not only take pictures with the Christmas tree and the Ferris wheel, but you can also enjoy plenty of street food and entertainment. Enjoy a warm Christmas drink – the Mulled Wine – while you browse for Christmas-inspired gadgets and get a taste of Christmas.
The Christmas season is here in the UK and the original Christmas markets are now open for business, so which city do you want to visit? Here's a selection of the lively Christmas markets in London and other cities around the UK, ready to run? Hot wine, gifts and cordial hot dogs beckon!
See more: The most beautiful Christmas markets in Germany
Hyde Park Winter Wonderland
For over a dozen years now, Hyde Park Winter Wonderland has been transformed into a huge 'winter wonderland' in central London every winter and is one of the largest and most famous Christmas markets in the UK.
Over 100 wooden houses are set up over the Christmas period, filled with fabulous gifts and fresh, hot food and beer. Hyde Park Carnival is the ultimate in Christmas food and fun, with London's biggest fun! Fun! The park will also be home to London's largest amusement park! With over 100 attractions, a romantic Ferris wheel, a thrilling rollercoaster, a haunted house, ice skating, a Live Show, an ice sculpture exhibition and countless food and drink stalls, Hyde Park Carnival is the place to be.
Southbank Christmas Market
The Southbank Centre Winter Market on the Southbank is now fully open and is best Christmas market in London, so foodies will want to check it out. The market is traditional and retro, with a strong Scandinavian flavour, strolling along the banks of the Thames in traditional wooden huts, where food and fine crafts from around the world come together.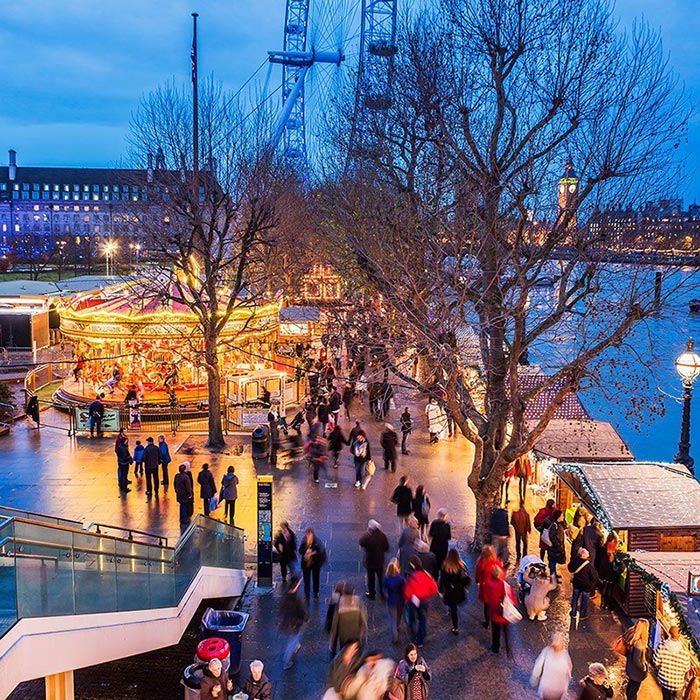 Also on the South Bank is Jimmy Lodge SnowGlobes, where you can enjoy the ultimate romantic London winter evening in a large crystal ball while eating great food and enjoying the winter views of the South Bank.
Leicester Square Christmas market
When: 9 November to 7 January
Location: Leicester Square, London, WC2H 7NA
One of the most popular Christmas markets in the UK, Leicester Square is also one of the most popular places for children to visit. As with all Christmas markets, there are endless snacks and handmade ornaments. Although it is small, it has all kinds of goodies and fun things to do.
In particular, the famous La Clique team puts on a circus and cabaret show that has won many awards and is a must-see for many people. This year's Christmas show will also feature ballet and a brand new line up of circus performers, so don't miss it! The Leicester Square Christmas Market also close to Oxford Street and Regent Street, so after you've eaten, you can go and see the angel lights on Regent Street, making it a great day out!
Covent Garden Christmas Fair
When: 8 November – 2 January
Location: Covent Garden, The Market, London WC2E 8RF
Covent Garden is already full of atmosphere on a regular basis, but it's even more so with the Christmas season! Every year, the Christmas market is preceded by the annual Christmas lighting.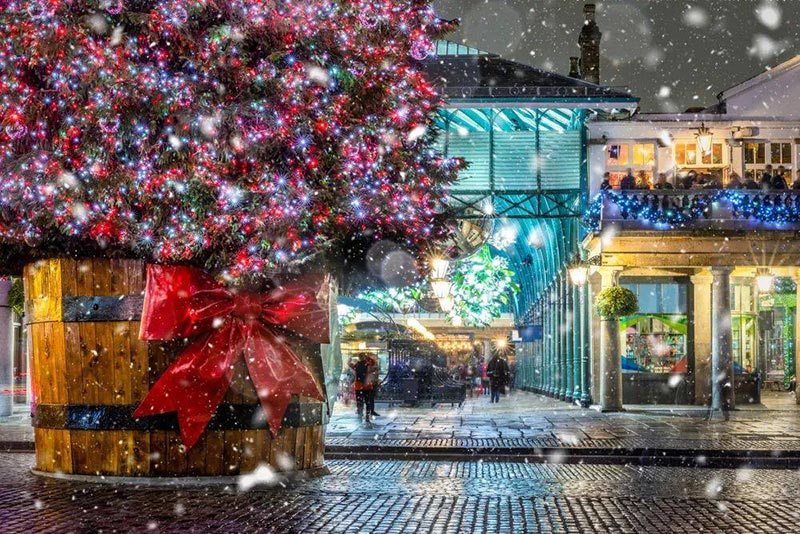 Covent Garden likes to do something different every year, and this year's new addition is a sleigh full of presents, making it a great photo attraction! In addition, there will be a number of exclusive flash shops coming to Covent Garden in November and December, so you can have fun and shop till you drop!
Christmas by the River
When: 15 November – 2 January
Location: Around the London Bridge area
Christmas by the River is arguably one of the best markets in London to see, as it offers views across the Thames to London Bridge and the Tower of London.
Foodies who love to eat and drink will know that there are often delicious food stalls lined up along the river not far from Tower Bridge, and this Christmas season, the food stalls have finally "become" a proper Christmas market! As well as food, there are over 70 huts where you can choose from a wide range of Christmas gifts, crafts, home decorations and jewellery.
Kingston Christmas Market
When: 18 November – 24 December 2022
Location: Market Place, Kingston, London KT1 1JH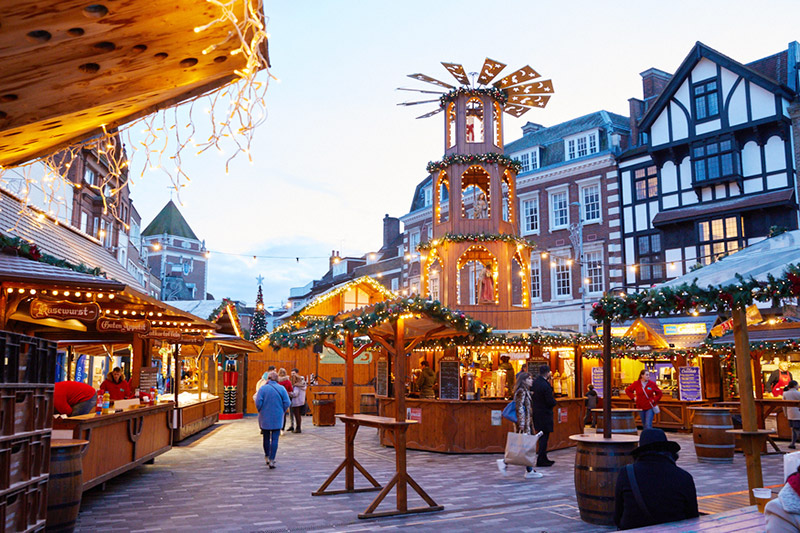 Located in the riverside town, this is London's most poetic Christmas market. The surrounding area has plenty of historical ambience, with a lazy and relaxed atmosphere of illuminated canopy cottages decorated with Christmas garlands and cosy lights. You can also buy all kinds of beautiful decorations and Christmas crafts here. There will also be live entertainment and, of course, no shortage of food.
Mayfair Christmas Market
When: 24 November to 26 November
Location: Around Mayfair, London
Mayfair is a famous business district in central London, and the stalls at this market have been carefully selected by the organisers to include the usual market food, wine and decorations, as well as a Christmas moose and a live DJ. The market is open for 3 days only, so don't miss out.
The Crafty Fox Market
Time: 11 December, 11:00 to 17:00
Location: Central Saint Martins, 1 Granary Square, London N1C 4AA
If you love design, the Crafty Fox Market is definitely for you! Here you can buy the most niche items, but you can also get involved in the design process so you can get a unique gift! This December's Christmas Market is one day only, so if you want to go for a little shopping, make sure you mark your dates.
Manchester Christmas Market
When: 10 November to 22 December
Location: Piccadilly Gardens , Manchester, Greater Manchester, M1 1AF
Attracting thousands of visitors every year since 1998, Manchester's Christmas Markets have transformed the city centre into a 'Christmas map'. This lively city centre offers mouth-watering food, drink and exquisite Christmas gifts. The beautifully decorated stalls and huts offer a wide range of gifts, crafts, jewellery, toys and top quality Christmas displays.
Don't miss out on the wide range of food available when you visit the market. Manchester's Christmas Market is famous for its traditional salami, but there's also Hungarian beef stew, seafood fajitas and hot dogs roasted to a crispy red.
Frankfurt Christmas Market Birmingham
When: 3 November to 23 December
Location: Victoria Square, New Street, Birmingham B1 1BD
Although it is a British Christmas market, the name 'Frankfurt' has a German flavour to it. As Christmas markets originate in Germany, the more German the market, the more authentic it is.
The Birmingham Frankfurt Christmas Market is the largest and most authentic German-style Christmas market outside of Germany and Austria, and the closest thing to a German-style Christmas market in the UK. Hundreds of stalls are filled with unique Christmas crafts and there are plenty of German delicacies to try, especially German sausages, German pretzels and hot chocolate, which the Germans say smells great and is the 'original'.
Bristol Christmas Market
When: 4 November to 23 December
Location: Broadmead in Bristol Shopping Quarter, BS1 1UX
Bristol is a romantic city with not only hot air balloons, but also the most fun Christmas market. As well as the fanciful handicrafts and entertainment such as Father Christmas and reindeer, the most unforgettable part of the market is the food. The Bavarian-style bar at the fair has heated wine and a variety of German hamburger meats, and is sure to be festive with live music.
York Christmas Market
When: 17 November to 23 December
Location: Parliament Street, St Sampsons Square, York
This year also marks the 30th anniversary of the Nicholas Fair. Take a leisurely stroll along St Nicholas Fair and you'll discover the wonderful gifts at the Yorkshire Christmas Market, head to Kings Square for some festive fun and taste the delicious Christmas specials at St Sampson's Square.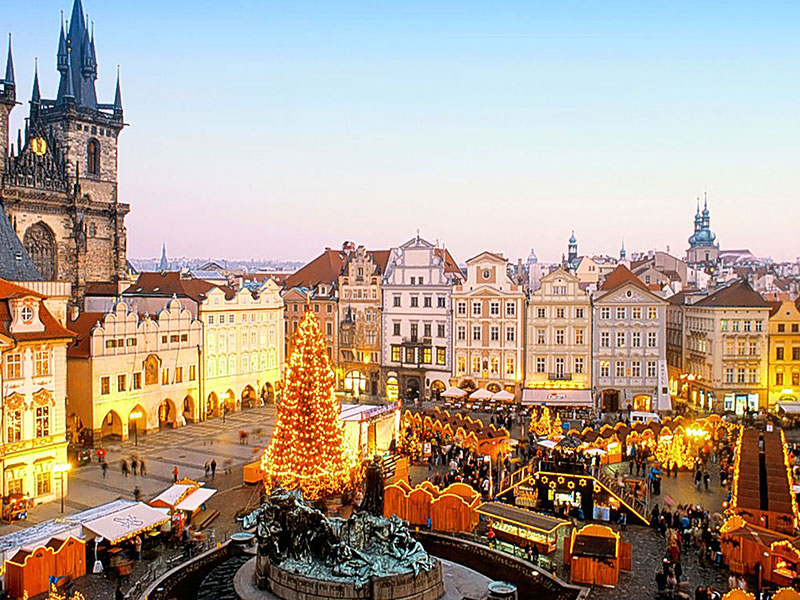 The aroma of fragrant wine and food fills the air under the illumination of the coloured lights, and delicate handicrafts lie waiting to be discovered in the little wooden huts. Although York's market is not as large as others, it is unique because it is set against the unique landscape of the region.
Edinburgh Christmas Market
Like a replica of Hyde Park Carnival, Edinburgh's Christmas Markets have plenty of food and entertainment. Shop for handmade Scottish souvenirs at Edinburgh's Christmas Markets and weave your way through the bustling crowds along Princes Street to experience the energy and freedom of the streets.
Beneath Edinburgh's ancient castle, the small wooden cottages smelling of hand-baked goods attract crowds, and at night it's super healing to look around this Scottish city from the Ferris wheel! Not to mention the finger-licking goodies and beverages that you can't stop eating and eating! And it's a long Christmas market, so if you want to go to Edinburgh for New Year's Eve, you'll be able to experience the city's charm too!
Glasgow Christmas Market
Elfingrove Ice Rink is home to the UK's largest ice rink and the UK's first snow wheel! Not only will you be able to see Glasgow's snowy landscape from the sky, but you'll also be able to see the snowflakes falling around you and the romantic Christmas music in the air, so make a romantic winter date with your friends and family at Elfingrove!
Belfast Christmas Market
As the setting for Game of Thrones, Belfast is also famous for its annual Christmas Market. Here you can experience a taste of Ireland that you won't find anywhere else Christmas Markets in the UK.
Carousels, snow globes, Santa's Grotto …… are held in front of Belfast's famous landmark City Hall and the market offers a wide range of food, including crepes from France, chocolates from Belgium, pork burgers, giant salami, paella and nougat from Italy. Paella and nougat.
Cardiff Christmas Market
When: 10 November to 23 December
Location: Throughout Cardiff city centre on St John Street, Working Street, Trinity Street and The Hayes
Cardiff's Christmas Market has been running for over 20 years, helping countless independent craftspeople sell their wares and support their creations, and it will continue to do so this year.
This year's market will be held in the heart of Cardiff's city centre in the pedestrianised streets. As in any city, there will be wine, food and drink, and a lively market with lots of lights.
For those of you planning to go to the lively Christmas markets in the UK, there's a lot of shopping and eating to be done. Let's go!