With twinkly fairy lights, mulled wine, wooden chalets and an enchanting atmosphere, the most beautiful Christmas markets in Alsace will plunge you into the magic of the end-of-year festivities and wintery in France.
About Alsace – a magic historical region
Alsace is a historical region in Eastern France and capital is Strasbourg. This is one of the most beautiful cities in France, easy to travel from Paris by TGV train. In Alsace, Christmas is not just a religious celebration, it is a whole month of traditional festivities taking place during Advent, the four weeks preceding Christmas. Several million people come to visit Alsace during this special time it is the unmissable event if you coming to France in winter.
Located close to the border with Germany, the historical region changed hands from Germany to France and vice-versa several times during the last centuries. That's why you will find many German influences, especially in the architecture, gastronomy, and the Christmas Markets in Alsace.
See more: 13 most beautiful Christmas markets in France
Why should you visit Alsace Christmas market?
Would you like to enjoy the enchantment of the illuminations and stroll through the Christmas markets? Alsace is the ideal place to enjoy all these markets with your family. Wooden chalets, local craft stalls, food stalls, mulled wine, bredeles and Christmas lights will amaze you!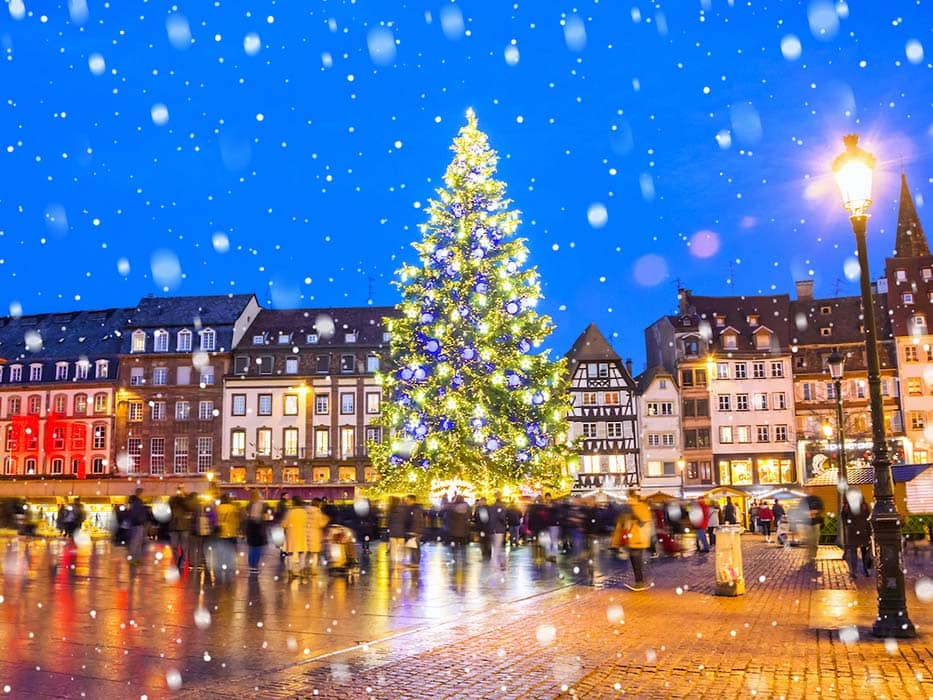 Christmas markets in Alsace are famous all over the world and attract millions of tourists every year. It is such a success that some of the chalets at the Strasbourg Christmas market are exported to New York, Moscow, Beijing or Tokyo!
To get the most out of it, it is important to plan your stay well and to know directly what to do in Alsace before you arrive. If you are arriving from Strasbourg train station or airport you can easily rent a car in Strasbourg and visit the most beautiful Christmas markets in Alsace at your leisure.
The Christmas markets are glittering until December 30th in Alsace. From Colmar to Kaysersberg via Sélestat or Eguisheim, here are our must-sees.
TOP 10 most beautiful Christmas markets in Alsace 
Colmar Christmas market – the most magical
Places: Place Jeanne d'Arc, Place de l'Ancienne Douane, Place des 6 Montagnes Noires and Place de la Cathédrale.
Dates: 24 November to 29 December
Monday to Thursday: 11am to 7pm
Friday, Saturday and Sunday: 10am to 8pm
24/12: open from 10am to 5pm
25/12: open from 11am to 8pm
26/12: open from 11am to 7pm
Christmas in Colmar, the city shines brightly. You walk in the middle of timber-framed houses that are richly decorated with lights and wreaths. The city has no fewer than six markets, enough to meet all expectations: a spiritual dimension on Place des Dominicains, arts and crafts at Koïfhus, local produce on Place Jeanne d'Arc, a Christmas market for children in the neighborhood of Little Venice, a gastronomic village on Place de la Cathédrale, and decorations on Place de l'Ancienne Douane.
More, nine chefs put their great cuisine into small dishes until 10 pm, on Place de la Cathedrale. Foies gras, choucroutes and gingerbread, this gourmet market is not to be missed! It is a great opportunity to enjoy its canals, bridges and other narrow streets with romantic decor.
Medieval atmosphere in Kaysersberg 
Locations: in the courtyard of the Arsenal and behind the Sainte-Croix church.
Dates: From 25 November to 20 December (Friday, Saturday and Sunday)
Fancy an authentic Christmas in a magical landscape of Alsatian half-timbered houses? In Kaysersberg, it's quite simple, the market has hardly changed in 33 years. The decoration of this winegrowing town near Colmar is set to the millimetre: green fir trees, red bows and white lights, not twinkling, please!
The medieval centre of the town is a remarkable setting for immersing visitors in the atmosphere of the market. Foie gras, aromatic herbs, gingerbread, organic wine, etc. Lovers of local specialities will also find something to their liking. This Christmas Market only takes place during the four weekends of Advent.
Strasbourg –  the "capital of Christmas"!
Locations: Around the Cathedral, Place du Château, Rue de Rohan, Place du Vieux-Marché-aux-poissons.
Dates: From 25 November to 26 December (until 2 January in the Advent Village) from 11am to 8pm every day
The Christmas period is a very important time for the Alsatians who prepare it up to a month in advance. As early as November, the tradition is to prepare the famous bredeles, which are typical Alsatian Christmas biscuits. Then comes the time of Saint Nicholas. On this day, children receive gifts in a bundle and eat maneles (brioche man). Then, throughout the month of December, the Alsatians decorate their homes and put up the Christmas tree with their families.
Strasbourg has a special place in Alsace Christmas Markets. The Strasbourg Christmas market is one of the most beautiful in the world! It dates back more than 4 centuries to 1570, which makes it the oldest in Europe. Today, the market is one of the most visited in Europe with over 2 million tourists. It has been awarded "Europe's most beautiful Christmas market" several times!  In short, Strasbourg is indeed the "capital of Christmas"!
Haguenau Christmas market – cradle of nativity scenes
Locations: 1 Pl. de la République, 67500 Haguenau
Dates: From 25 November to 30 December
Monday: 2pm to 7pm
Tuesday, Wednesday, Thursday, Sunday: 10am to 7pm
Friday and Saturday: 10am to 8pm
24 December: 10am to 4pm
25 December: closed
26 December: 10am to 7pm
The contemplation of a representation of the Nativity will plunge you into the origins of Christmas. And it is in Haguenau, 30 km north of Strasbourg, that this magic is best appreciated. The fourth largest town in Alsace has been claiming its status as the "cradle of nativity scenes".
Away from its more touristy neighbours, the city plays the card of a family market of about fifty small wooden chalets and invites each year to discover an exceptional cot. After Provence two years ago, it is Madrid's turn to be honoured this year. The 16m long cot is the work of Fernando Cruz-Avalos, a great specialist in the art of cots. A real treasure of its kind! You will be able to admire its 242 characters in the setting of an old chapel, the Espace Saint-Martin located in Place d'Armes. Open from 27 November to 30 December, Tuesday to Sunday from 2pm to 7pm (closed on 24, 25 and 26 December).
Selestat Christmas Market – the birthplace of the Christmas tree
Locations: Pl. d'Armes, 67600 Sélestat
Dates: 25 November to 30 December
+ Monday, Tuesday, Wednesday, Thursday and Sunday: 10am to 7pm
+ Friday and Saturday: 10am to 8pm
+ 24/12: 10am to 4pm
+ 26 December: 2pm to 6pm
+ 25/12: closed
Did you know that the custom of the Christmas tree, a true emblem of the end-of-year festivities, was born in Alsace and more precisely in Sélestat? It is in Sélestat, in a book of accounts dating from 1521, preciously preserved in the municipal archives, that we find one of the oldest written mentions known in the world today, referring to this part of the Christmas tree tradition 📖 !
Twinkling lights, magical decorations, the scent of spices and bredele wafting from the bakery, Christmas carols ringing out in the streets and in the heart of the churches, a warm and intimate atmosphere…From 25 November to 30 December, come and experience a magical and authentic Christmas in the heart of Alsace, in the Sélestat region, the birthplace of the Christmas tree 🎄✨ !
Obernai Christmas market – the warmest
Location: On the market square.
Dates: From 25 November to 31 December
Monday to Thursday: 10am to 7pm
Fridays, Saturdays and Sundays: 10am to 8pm
24 and 31 December: 10am to 4pm
Closed on 25 December
25 km from Strasbourg, the Obernai Christmas market is the most gourmet market in Alsace. Renowned for delighting all the tourists who visit it, taste the sweet and savoury specialities of Alsace. The enchantment will accompany you in each alley of the city with numerous decorations and illuminations.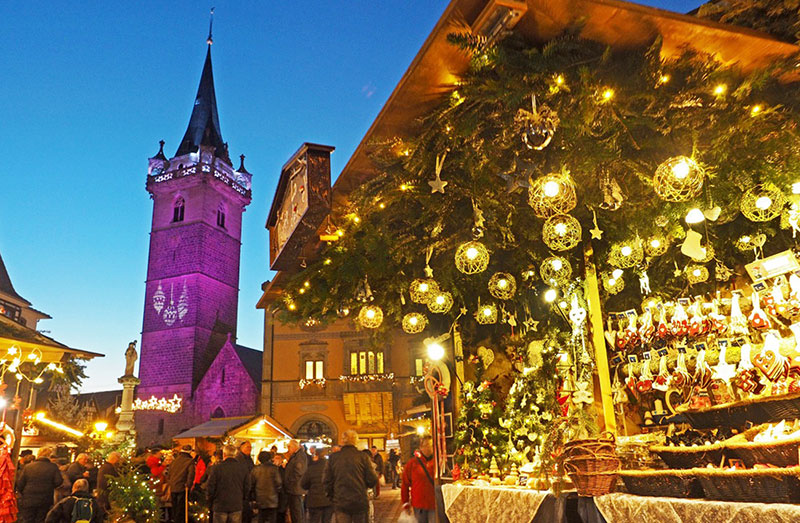 Mulled wine – this winter drink prepared in the Obernai way (with Alsace white wine and spices), is served around a large cauldron. You will enjoy the unique architecture of this square as much as the warm atmosphere.
The 16th-century monument covers a market of some forty chalets with local craftsmen. You will be able to wander through the narrow streets and squares so typical of the region during a storytelling tour. Meet in front of Santa's office, Place de l'Étoile on Wednesdays 8, 15 and 22 December from 3.30 pm to 4.30 pm and Wednesday 29 December from 2 pm to 3 pm (€5/child from 4 years old, accompanying person free).
Mulhouse Christmas market – the most colorful
Place: Place de la Réunion, 68100 Mulhouse
Dates: From 24 November to 27 December
During Advent, Mulhouse revives the memory of its glorious industrial past by draping itself in spectacular fabrics. The motifs are made by the Alsatian textile designer Marie-Jo Gebel. They adorn the Place de la Réunion, the epicentre of the Christmas market with its Christmas tree, the big wheel and a hundred or so small chalets. The fabrics were created from the archives of the Musée de l'Impression sur Etoffes in Mulhouse.
You will be able to buy this fabric labelled Alsace terre textile by the metre and in the form of tablecloths, cushions or even pouches in the shop installed in the Town Hall. Where can you find it? Place de la Réunion and surroundings.
Christmas market in Ribeauville – the most medieval
Location: Ribeauvillé town centre
Dates: From 3-4 and 10-11 December
Every year, in mid-December, the very original medieval Christmas market is held in Ribeauvillé on the Alsace wine route. Located 20 km from Colmar, this market invites you to plunge a thousand years back in time. You can meet a shepherd walking his flock of geese, taste wild boar cooked on a spit, or talk to craftsmen and designers in medieval costumes. A change of scenery is guaranteed in the heart of the capital of the minstrels of Alsace and ~70 small wooden chalets.
Eguisheim Christmas market, in the heart of the most charming village
Location: D14, 68420 Eguisheim
Dates: 25 November to 23 December; then from 27 to 30 December
Christmas in Alsace would not have the same flavour without the inimitable sloping roofs of its villages, its half-timbered houses and other coloured houses. You have to come to the Eguisheim market in the heart of the Haut-Rhinois vineyards to enjoy this magic.
The small Alsace Christmas market in Eguisheim of about thirty exhibitors is open during the whole Advent period. And who better than the night watchman to guide you through the illuminated streets to discover the treasures of the city but also the history of the village?
All through December, come meet the night watchman in the charming wine village of Turckheim. Wearing a three-cornered hat and carrying his halberd, lantern, and horn, the night watchman would keep a close eye on the village, calling out the hours and bringing order to the streets. Today, three watchmen still take turns watching over Turckheim. Follow them as they tell you the history of the city on a walk filled with anecdotes and Alsatian songs. Mingle with tradition and come hear the wishes of the watchman at midnight on December 31.
Neuf Brisach Christmas Market: back to 1700!
Address: 68600 Neuf-Brisach
Dates: open every weekend at the beginning of December. From 2pm to 7pm on Friday, 10am to 9pm on Saturdays and from 10am to 7pm on Sundays.
Come and experience a Christmas like in 1700 in the Vauban fortifications of Neuf Brisach listed as a Unesco World Heritage Site. The town entirely built in 1697 hosts an exceptional (only on weekends) and unique Christmas Market: it's on the theme of a village! This extraordinary Christmas Market is literally divided in two parts: one traditional Christmas Market side and another side, entirely dedicated to this historical period… so, are you ready to jump back to 300 years ago?
For the occasion, it is the engineer and architect Vauban himself who will plunge you into the enchantment through guided tours. See you on December 10th, 11th and 12th from 2.30 pm to 4 pm. Rates 6 € per adult and 2 € per child under 12 years old (reservation before noon at 03 89 72 56 66).
Magical Christmas markets in Alsace is waiting for you!