As we enter winter time in the UK, it's as if the early nights fall as if they're ready for the stars to shine. And one of the most anticipated events, of course, St! Christmas! Lighting! Lighting! And once the lights come on, Christmas season in the UK 2022 will begin!
As one of the highlights of Christmas in the UK, the streets are lit up with Christmas lights at the start of November. The streets are lit up, the nights are warm and, more importantly, it's Christmas holiday from this moment on!
We's not going to let you miss out on all the excitement, so today we've got a round-up of the lights across the UK, so get out on the streets and count down the days to the lights!
London
Oxford Street Christmas Lights
This year, Oxford Street will be the first to be lit up and will continue the 'starry night' theme from last year, with 5,000 stars hanging from the sky.
Although they are simple and traditional, the lights will look like a screen from a distance, often showing warm words and patterns, as if a river of stars were overhead.
This Christmas season in the UK, Oxford Street is also launching a campaign called "This is the love you give". The campaign will give away 100 food, drink and Christmas gifts to 'those who need it most', and Oxford Street will also offer shoppers exclusive deals for three days.
Regent Street Christmas Lights
No Christmas in London would be complete without the Christmas Angels on Regent Street and St James Street!
A must-see in London, the quaint and atmospheric Regent Street is flanked by old British buildings and is lined with historic shops lined with luxury shops, which are already spectacularly beautiful during the day. And there is no better time than Christmas Eve, when the street is lit up with cherubic lights hanging in the air.
The angelic lights spread their wings across the street in a graceful manner. Once these lights are on, the atmosphere is full of Christmas cheer and the neighbourhood is lit up with them.
With the beautifully decorated lights, it seems that even the cold London nights are no longer cold.
Carnaby Christmas Lights
When: 3 November 2022 to early January 2023
Carnaby Street is a treasure trove of shops, independent brands and online restaurants, hidden away behind Liberty Mall. Every year Carnaby Street is a visual treat and a surprise for everyone.
In 2019, it's a sea theme, with cute dolphins, seahorses and coral as soon as you look up, in 2020 it's a charity theme, and in 2021 there are over 600 glittering neon butterflies.
Christmas in Covent Garden
The most literary Christmas atmosphere in London is, of course, in Covent Garden Covent Garden. The annual Christmas market is preceded by the annual Christmas lighting.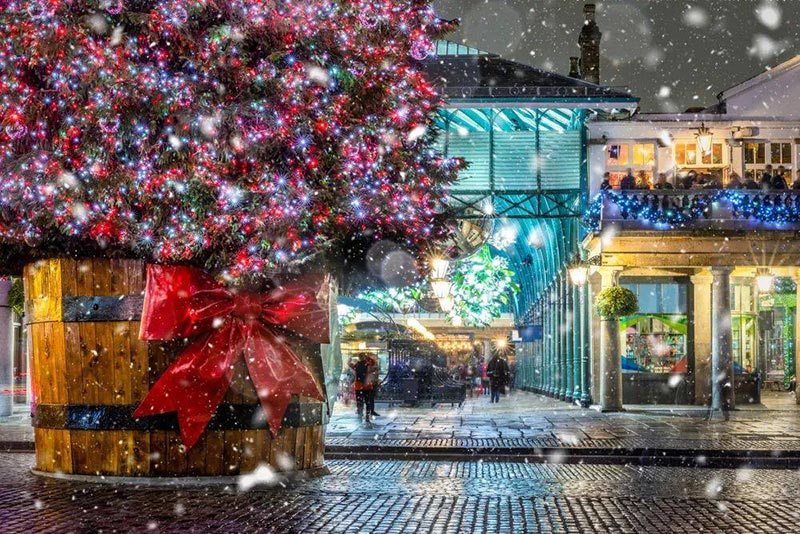 The much-loved mistletoe chandeliers, giant Christmas trees and moose can still be found here this year.
Like a sparkling jewel, Covent Garden exudes an enchanting aura during the Christmas season, and its glow and buzz can be felt from afar.
Christmas at Kew
Kew Gardens is beautiful in all seasons, but the most breathtaking time of year is undoubtedly Christmas season in the UK. Every year the Royal Botanic Gardens attracts a large number of visitors to see the lights come on at night. This year, the Christmas lights will run from 16 November to 8 January.
The illuminated Arch of Dreams is the perfect place to take photos in winter. The lights in the lake are dreamlike, and there's a chance to meet Grandpa Christmas on your way through the illuminated gardens!
Welcome Christmas in the Botanical Gardens with a glowing display of lights!
 Lightopia at Crystal Palace Park
Lightopia London festival at Crystal Palace Park is a playground of lights. The light installations are exquisite and award-winning, the tall Christmas tree looks like it's made of fireworks and is very romantic, and there's even a winding dragon light.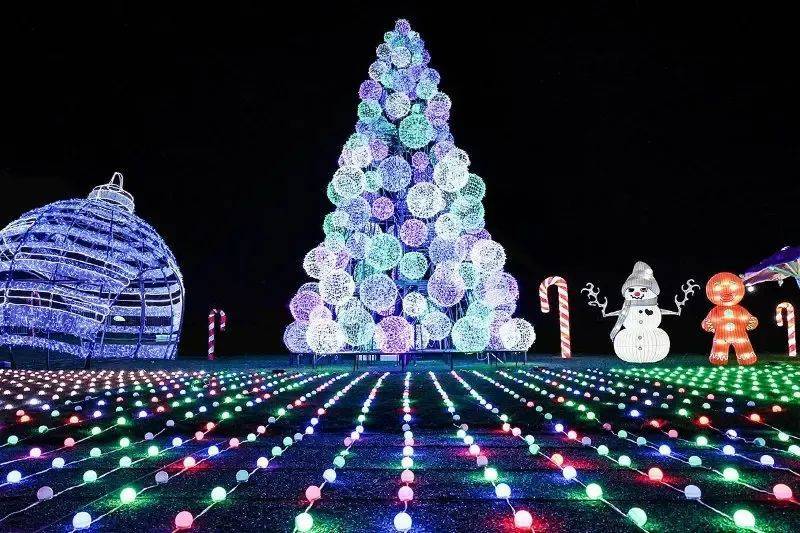 It's most romantic to walk under the shade of the illuminated trees, which dangle like a river of stars. Tickets can be purchased on site, but they will be £2 more expensive, so we suggest you book online in advance.
Winter Festival at Southbank Centre
The winter festival at Southbank Southbank Centre is a combination of Christmas lights and a Christmas market. There's more food than you can eat, a variety of unique and Christmassy crafts, and a stunning night scene when the market is lit up at night.
Edinburgh
When: 19 November 2022 to 3 January 2023
Location: East Princes Street Gardens, Princes St, Edinburgh EH2 2DG
Every winter in Edinburgh, it's cold but lively! The Edinburgh Christmas Light Up is a huge celebration and every year it is held in front of a huge crowd.
The start of the Christmas season in Edinburgh is marked by the Christmas Market on Princes Street, where the lights come on, the market opens and it's Christmas time again.
On 21 November, the Royal Mile will host its grand opening event with spectacular light projection shows in many parts of Edinburgh.
With lights, a marketplace and fun entertainment, Scotland's finest can plan their Christmas season in the UK trip to Edinburgh!
Manchester
When: mid-November 2022, exact date to be announced
Location: Deansgate, Manchester, Greater Manchester, M3 1RH
The annual Christmas lighting ceremony is one of the liveliest events of the year in Manchester and the square is always packed with people looking forward to witnessing the start of the Christmas season.
The most notable attraction is of course the Father Christmas lights hanging from the main entrance of Deansgate, which will also still be lit this year.
Glasgow
When: 20 November 2022
Address: George Square, Glasgow G2 1DH, United Kingdom
Glasgow's Christmas lighting is arguably the most popular event of the winter season. The big moment of winter in Glasgow comes when the colourful lights of George Square come on.
George Square is decorated with lights, a lively Christmas market, a carousel and Ferris wheel, and an ice skating rink, all of which exude a festive atmosphere at all times.
With twinkling festive lights, an array of fun events to get you in the festive mood and the best places to shop and feast on Christmas, it's easy to see why Glasgow loves Christmas so much.
Cardiff
Date: 15 November 2022
Venue: Cardiff City Centre, The Hayes, Cardiff, CF10 1AH
Cardiff's Christmas lighting is still taking place in the city centre this year. On 15 November, the Christmas lights will be switched on in Cardiff, announcing the opening of winter wonderland.
The winter carnival will be held at both Cardiff Castle and City Hall Lawn, with various ice tracks and igloos full of winter elements. There will also be street performances and live music.