Cappadocia is a place where the sky is filled with hundreds of hot air balloons and you can explore the region's numerous caves and natural rock formations. This is a must-visit for anyone who enjoys adventure and experiencing the world's most beautiful places. In this Cappadocia Travel Guide, article admin will give you the lay down of the best things to do, best time, stay and what you can expect from a magical place in Turkey!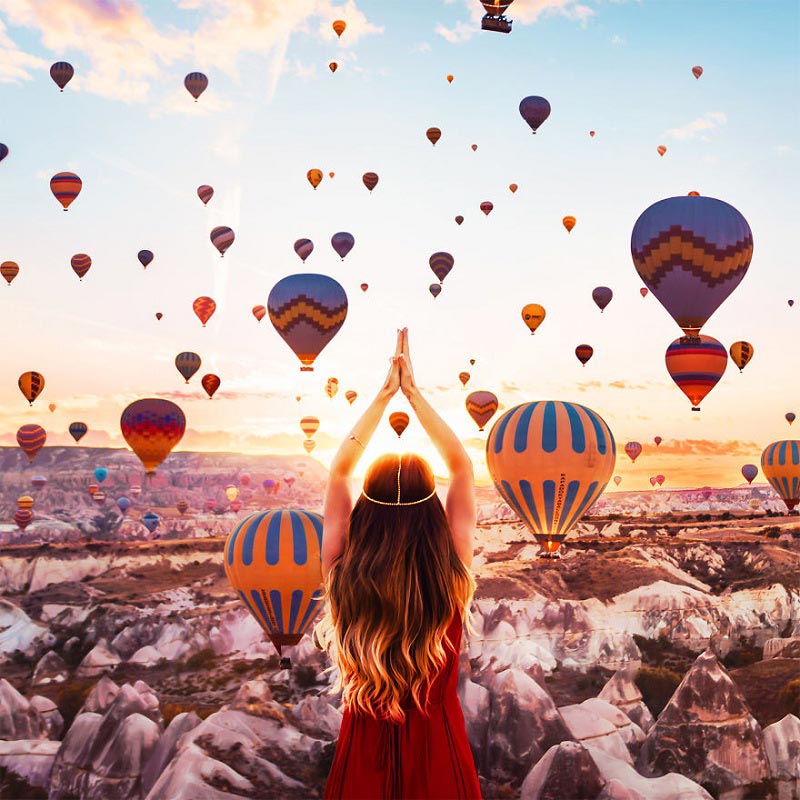 How to visit Cappadocia?
There are two airports in the area that you can choose from when you're traveling to Goreme. The main flight runs from Istanbul to Goreme Nevsehir Airport (1 hr 15 min) or Kayseri Airport (1 hr 15 min). From these airports, you can easily arrange a transfer to Goreme, as lots of tour operators offer a package. It's also worth asking your hotel if they offer a transfer from the airport.
Alternatively, if you don't want to fly, there is a night bus that runs from multiple cities to Goreme. It takes around 12 hours and is credited for its comfortable ride and good service.
Best Time to Cappadocia travel
Cappadocia is beautiful in all seasons; however, try to avoid July and August because of the heat, crowds of tourists, and higher prices. Late spring or early autumn is the ideal time for a peaceful visit, with mild temperatures and lower prices.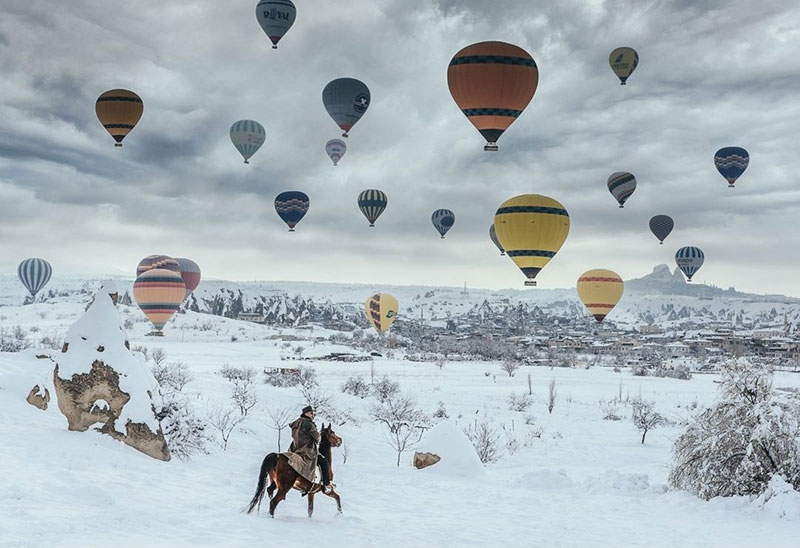 That visiting Cappadocia in Winter also be absolutely fantastic. The balloons keep on flying but there's also snow on the ground which must make the scenery that much more magical!
Where to stay in Cappadocia
The Cappadocia region itself is rather large so knowing the best place to stay is crucial to your trip planning! The town of Göreme is the historic center of the region and is where most tours will start as well. Göreme is also the place where you have one of the best views over the hot air balloons in the morning!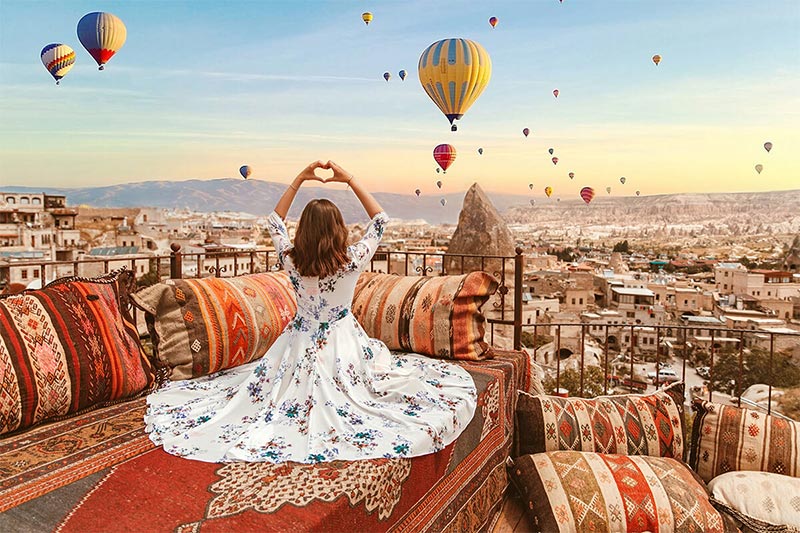 Typical for people who travel to Cappadocia is that they stay in a cave hotel overlooking the town of Göreme. I've selected the best ones for you where I am sure you'll not only have an amazing time but where you'll also be able to take beautiful photos and make memories that last a lifetime!
Mithra Cave Hotel
Located on one of the top levels in Göreme and offering a spectacular view over the entire valley. The owner is super nice and he owns several cute dogs that roam around the property!
Antique Terrace Cave Suites
Address: Goreme Kasabasi, 50180 Nevşehir
Antik Terrace Hotel is a wonderful place to visit when in Cappadocia. The rooftop terrace is set up beautifully and overlooks the whole town, perfect spot to magical place in Turkey.
Sultan Cave Suites
This is probably the most photographed hotel in Cappadocia. Known for inviting influencers from all over the place to promote their property.
Local Cave House Hotel
Known for its pool which can come in handy on those sizzling hot Turkish afternoons. Feel the historical atmosphere of thousands of years. Local Cave House is here to offer you the best. The houses of different tribes living in our hotel thousands of years ago are originally preserved.
Museum Hotel
This stunning Relais & Chateaux hotel is a masterpiece on its own and is definitely worth a visit! But have to admit that the hot air balloons were really far. Nevertheless it's a stunning hotel and if you want to splurge yourself with some luxury then this is the way to go!
Cappadocia Travel Guide – Things To Do
Located in Central Anatolia, the region of Cappadocia is known for its natural rock formations and beautiful landscapes. These areas were formed due to erosion and volcanic activity. It's hard to believe that nature can create such an otherworldly landscape. Over the years, people in this region have carved out underground towns and houses using the rock they have been given.
1. Experience Hot Air Balloon Flight
The number one thing to do while you're in Cappadocia is to go on one of the world-famous balloon rides. Hundreds of hot air balloons in various rainbow colors, fly through the beautiful skies above the fairy tale landscapes, in a display like no other.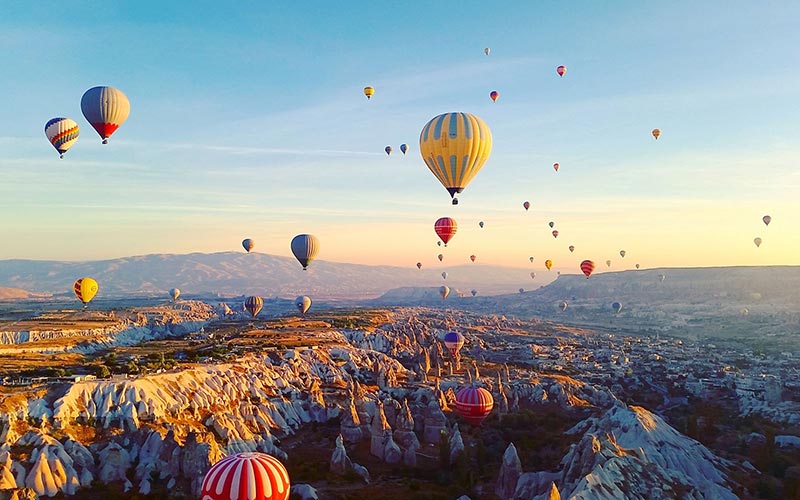 Most tour companies will collect you from your hotel at 5 AM before taking off at 5.45 AM in time for sunrise. This is a once-in-a-lifetime experience, and, as a result, it can be expensive. Tickets usually cost upwards of $180. However, they do normally offer breakfast and champagne. What's more, you can't put a price tag on a bucket list experience like this!
2. Horse Riding Through Rose Valley in Sunset
Rose Valley is where Cappadocia's moon-like reputation comes to life. Situated a 15-minute drive from Goreme, it's home to pink-tinted rock valleys, huge rolling rock formations, and craters. These one-of-a-kind landscapes are what make Cappadocia, and particularly Rose Valley, so great for hiking and horse-riding.
If you're horse-riding, there are plenty of options to choose from. However, we highly recommend the 2-hour sunset ride with The Dalton Brothers. You can't beat being at one with nature and getting to visit secret viewpoints; perfect for watching the sun go down.
3. Watch the Balloons at Sunrise
Seeing Cappadocia from above is sensational, however, maybe even better is experiencing the balloons from the ground too! Get up early, and walk to a viewpoint, to watch the glow of the balloons against the pinks and oranges of the morning sky. Depending on your choice, the hot air balloons can get really close- almost close enough to touch. We actually had to move out the way of a balloon at one point in order to not get hit by the basket! The chance to get up close and personal is not only an amazing travel experience but a photographer's dream and easily one of our favorite things to do in Cappadocia.
Because you'll need to leave at 5 AM to see the balloons take-off, it's best to rent a bike or motorbike the evening before. When you wake up, search on Google Maps for 'The Dalton Brothers', and you'll find a road that runs at the foot of the valley. Follow this for about 5 minutes and park as soon as you see hot air balloons beginning to light up. From here, hike up as high as you can onto one of the ridges and experience balloons flying all around you as the night stars fade, and the sun rises.
4. Visit Pasabag Valley
If you want to spot the best fairy chimneys and cave dwellings then Pasabag Valley is the place to be.
Pasabag, also known as 'Valley of the Monks', is where the mushroom-shaped rock formations live. With large rocks that seem to balance on top of them, these chimneys are dotted all over the valley and were once an important settlement for monks. As a result, many of them were carved into churches, and now over 30 rock churches are open for visitors. Make sure you take the opportunity to visit inside and even climb to the top!
5. Get Lost in a Maze of Rugs
There's a famous carpet shop in Goreme, named 'Galeri Ikman'. This is one of the best places to get beautiful photos of colorful Turkish rugs and other kinds of traditional handicrafts. It's absolutely huge, with over 50,000 pieces of craftsmanship divided into 17 rooms!Wander among the colorful textiles, snapping photos, and sipping on chai tea while you chat with the owners, who are super friendly and helpful.
After you've finished browsing, pick up a few things to take home with you. This way you'll get to have a little piece of Turkey in your home forever!
6. Stay in a Typical Cave Hotel
The caves of Cappadocia were carved out hundreds of years ago and used as houses and churches by the locals and monks. Nowadays, these rock houses have been converted to hotels, giving visitors the opportunity to live like the locals used to. This is an unforgettable accommodation experience and something totally unique.We stayed at Sultan Cave Suites, which was fantastic. What's more, they have an amazing roof terrace which has beautiful views across the valley and rock formations.
7. Discover Selime Monastery
The Selime Monastery, also known as the Kaledibi Monastery, is the biggest rock-cut monastery of Cappadocia with a cathedral sized church! From on top of the Selime Monastery you also get a spectacular view over the Ihlara Valley, a 15 km long and 150m deep canyon. The valley contains around 50 rock-hewn churches and numerous rock-cut buildings.
It was carved by hand by the monks in the 13th century and apart from the church it also has living quarters for the monks, a large kitchen and stables for animals. The walls were once decorated with frescoes of which very little remains but it's still a wonderful site to see today and to explore!
8. Explore the Derinkuyu Underground Village
Avisit to the Derinkuyu Underground is You'll go down below the ground until 5 levels deep into this cave system which once housed over 20.000 people! Do know that if you suffer from claustrophobia this excursion might not be for you.
9. Admire Uchisar Castle
This is a castle like no another!
You will be amazed by the view. Look from the front but also ask your guide to take you to the back where you can see the valley behind the castle.
The castle mountain is 60 metres high and is a warren of numerous underground passageways and rooms. Unfortunately, most of these are now blocked or impassable. During the Byzantine times they served as cloisters and residential areas. Originally about 1000 people lived in the castle but it is uninhabited now. In the centre of Uchisar town is an underground passage of 100 metres in length. It is thought that this served as a link from the castle to the outside world and also protected their water supply.
10. Discover Cappadocia Open Air Museum
Another must-see is the Cappadocia Open Air Museum, one of Turkey's UNESCO World Heritage sites. It is located in Goreme, only a 15-minute walk from the city center, so it's a fun and easy thing to visit if you're staying in the town. The Open Air Museum is home to many magnificent churches carved within the rock and have stunning frescoes painted on the walls.
Entrance fee: The Open Air Museum entrance is around 40 TL, which is around USD 3. You pay more to visit this museum than Pasabag because of the paintings, and it's well worth it!
What to Eat In Cappadocia?
Your taste buds will love Turkish cuisine.
In Cappadocia a must try dish is a pottery kebab. This can only be found in Cappadocia and is a speciality of the region. This can be made with either lamb, beef, chicken or vegetables.
It is cooked in the clay pot, the pot is sealed with bread dough and then it is left to simmer for several hours in its own juices.
Once ready, the pot will be brought out and cracked in front of you while it is a still bubbling. You may even be offered the chance to crack it yourself as I was. Very tasty and fun to eat! These can be found in most restaurants.
Cappadocia Travel Guide – Is it safe?
Turkey gets a bad reputation for solo female travel. Is it because people are sometimes scared of different cultures?
Also Cappadocia is so accustomed to tourism that it's one of the best places in Turkey to start your solo female travel journey. A lot of the locals speak English and are willing to help you if you have questions.