Noted as one of the most grandeur landscapes in Turkey and around the globe, Cappadocia is the ideal getaway for many adventurers. Cappadocia boast of the region's swirling volcanic-rock, nature's work of art provides exceptional itineraries for planning a trip to Turkey such as hiking, rock climbing, camping, and hot air balloons. And this is Things you to Know Before you travel to Cappadocia solo.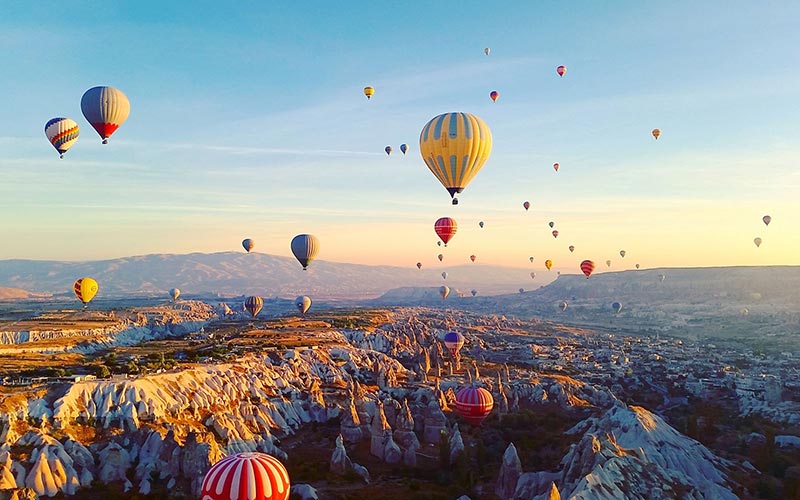 1. Cappadocia Is Not The Name Of A City In Turkey
Oh you want to go to Cappadocia? Well you're going to have to get more specific, because there is no town or province in Turkey that goes by that name. In fact, Cappadocia is the name of a historic region in central Turkey. This means that the area used to have political and cultural significance. The Kingdom of Cappadocia was an independent empire whose prominence was around the years 330 BC – 20 AD.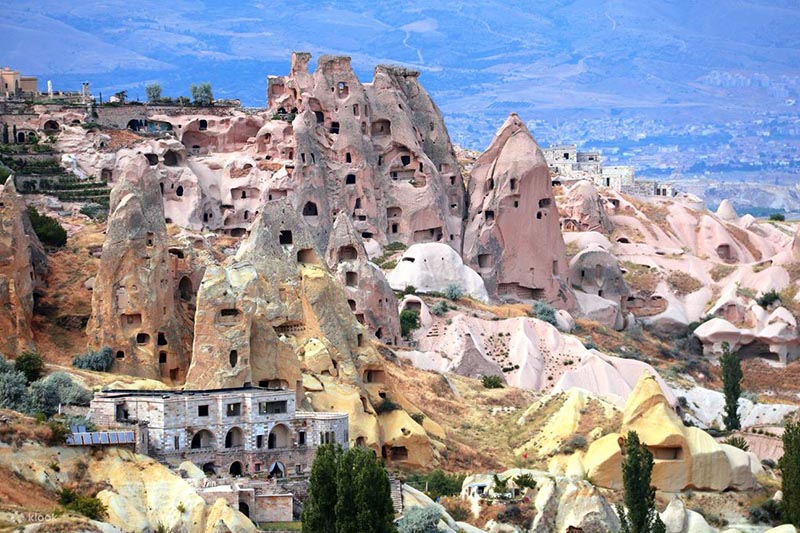 Today Cappadocia is still used to refer to this popular region, but most visitors stay in Göreme, which acts as the region's tourism hub.
2. Cappadocia is a UNESCO site
As Cappadocia is a World Heritage UNESCO site and rightfully so for its beautiful and quirky Dali-esque hill and rock terrain and unique history of cave dwellers. it is important to know that construction is not allowed here outside of restoration.
The cave dwellings cannot be touched or transformed into hotels. Thus, most locals, hotels and businesses reside in or near commercial towns like Goreme. As such, be prepared to see fairy chimneys, pigeon houses, red rock valleys crop out of the land flanking the towns.
3. Cappadocia's History & Cave dwelling past
Cappadocia was inhabited as early as 1800 to 1200 B.C. during the Hitite era, when Christians resided in this area to escape Roman prosecution. Caves were used for hiding and escaping persecution and they eventually transformed into something people lived in. There are monastery caves, underground and cavernous caves. Even caves made for pigeons. Next to the landscape, caves are one of the famous signatures of this region.
Today, some 90% of Cappadocia locals live in apartments. Due to the need for more modern convenience and the fact UNESCO has protected it there's not much else folks can do to modify it other than turn it into hotels. The land is government owned. Farmers can still buy farm lands surrounding it and you'll see occasional tractors driving through town in the place of a car.
4. Cappadocia is not for rock climbing
Many of the rocks are man-made , meanwhile Mother Nature has done her bit with rain, snow, wind and elements of weather! The reason Cappadocia is not for rock climbing, is because the rock is very porous. The rock material is made from minerals and volcanic ash, which are easy to carve.
5. Bring Hiking Shoes to Cappadocia
Traveling Cappadocia, some of the trails are slippery slopes and the due to the porous land material, rocks can crumbly. Tread slowly and be prepared to slide. I brought runners on my Cappadocia trip and I regretted it. Definitely avoid flip flops and sandals.
6. Bring vitamin C and cold medicine
Blame the volcanic ash material of Cappadocia rocks. As I said, they're soft and crumble easily and the dust is fine. But for me it started with a sore throat and at first I thought it was just travelers cold. But I quickly realized a lot of people I met either at my hotel or on tours seemed to be coming down with the same cold. If you have a sick mask, that might be a good idea too. There is a local pharmacy in Goreme but you may need someone to translate your illness.
7. Where to Stay in Cappadocia
There are many breathtaking places to stay in Cappadocia. I stayed in Goreme (the most popular) a small and safe main town of Cappadocia. It's a preferred town due to its walking proximity to Love Valley, Red Valley and the Open Air Museum. It's a ten minute bus ride to Uchisar Castle located in Uchisar, another town tourists will stay at.
Cappadocia is known for its cave hotels. Long ago, the residents used to live in caves in this region and while most families have moved to apartments, cave hotels are a fun attraction for tourists.
Kelebek Hotel had cave rooms/partial cave rooms, rooms include your own modest Turkish bath (and regular shower) and was only 8 minutes from the Goreme bus station. Location was on a hill overlooking Goreme.
Cappadocia Cave Suites You've seen its rooftop on instagram. 8 minutes from the Open Air Museum, this palace-like hotel is a complex of cave dwellings made of materials sourced from local formations. You can stay in a cave room or fairy chimney room.
8. Cappadocia Hot Air Balloons
Perhaps one of the most memorable experiences one can get in Cappadocia is taking a sunrise hot air balloon ride. Even if you have never visited Turkey before, you have probably seen all the breathtaking photos of hundreds of air balloons covering the sky. The beautiful place in the images is Cappadocia, and tourists from all around the world travel to the gorgeous region just to experience this bucket-list-worthy activity.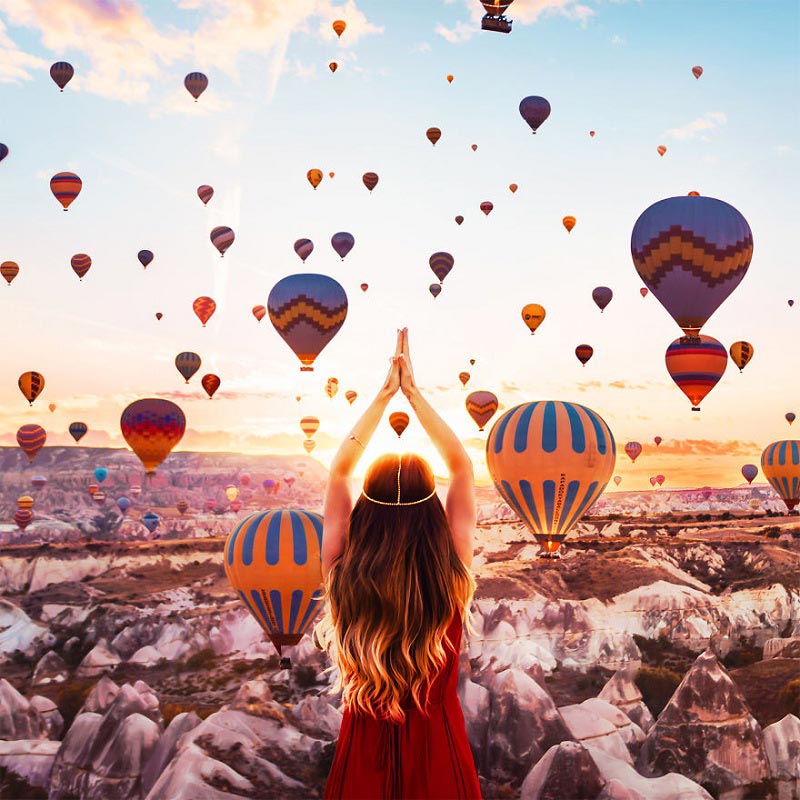 Most rides take about 1 hour, cost around 150 euros per person, and offer unbeatable views of the surrounding areas. There are many different companies to choose from, depending on your wishes and needs. Some even include a delicious meal and a bottle of champagne to make the ride more special.
Since riding a hot air balloon is one of the favorite activities of Cappadocia, make sure to book in advance. Keep in mind that peak season is from September – October, and April – June.
9. But Cappadocia isn't *just* hot air balloons
Cappadocia has gotten a stereotype of being the place to watch and/or fly in a hot air balloon, but I can promise you that it's much more than that!
Take any tour through Cappadocia and you'll see majestic fairy chimneys, whimsical trees with evil eye decorations, sprawling valleys, cute locals (donkeys!), underground cities, cheerful locals, and more.
To make it easier, local tour companies have color-coded their tours based on the route they take. Here's a quick and simple guide to figuring out which tour to take:
• Typical red tour stops: Uçhisar Castle, Love Valley, Open Air Museum, Paşabağ Valley, Devrent Valley, Pottery Store
10. Local Food
For all our foodies, discovering Cappadocia and its many flavors will be a great adventure. In the region, you have the opportunity to taste all the specialties of Central Anatolian cuisine.
Make sure to try the Pottery Kebab. Although it can be found almost anywhere in Turkey, it is believed that the best ones are made in Cappadocia. Typically, it consists of lamb or beef, tomatoes, green pepper, garlic, and some chili. Some restaurants offer the Pottery Kebab sealed with dough, which makes the experience even better.
Another favorite of the region is Nevşehir Mantısı, a ravioli-like local specialty. The dough is made almost the same as in Italy. However, the pieces are a bit smaller. The ravioli are filled with minced meat and served with yogurt. Of course, visiting Cappadocia wouldn't be imaginable without tasting its famous desserts. Perhaps the easiest (yet still delicious) one is Aside, which features flour, water, and grape molasses, which are cooked in a pan.
In Cappadocia, you may also find different types of grapes, which is why raisins are a popular snack. Keep in mind – they come with seeds, which might seem unusual. But that is completely normal. In fact, seeds are considered to be very healthy since they contain a lot of antioxidants.
11. If You Have 3-days in Cappadocia
Day 1 – Goreme + Valleys
One of the most impressive parts of Cappadocia is Goreme, therefore plan at least one day in the town that is famed for its rock formations. Pay a visit to the Fairy Chimneys, discover the magical underground houses, visit the Goreme Open-Air Museum and then head on a hike at the Valleys (Monk Valley and Devrent Valley). If you wish to have a more in-depth experience, you may hire a local guide or join a group with expert guides. Since there is a lot of history behind Goreme, it can be really valuable.
Day 2 – Hot Air Balloons, Shops, and Adventures
Seeing Cappadocia from the vantage point of a hot air balloon will be an experience unlike any other. Be prepared to start your morning early – most balloons take off at 6.30 AM. Hop on a balloon that will take you down into Love Valley. Then, you can continue your day by heading on an ATV ride or doing horse riding that typically lasts around two hours. End your day by going on a shopping spree. Get ceramics or carpets in Goreme, or choose beautiful fabrics in Kayseri. You are guaranteed to have a great time!
Day 3 – Derinkuyu Underground City + Ihlara Valley
There are two main underground cities in Cappadocia – Derinkuyu, and Kaymakli. Derinkuyu, however, is the largest, therefore the best to see if you have limited time. Remember to bring a light jacket, because it can get a bit cold underground. After you have wandered through the many tunnels, take a 4-kilometer trek through Ihlara Valley. When you are done with the walk, enjoy a delicious dinner at one of the local restaurants, serving Pottery Kebabs and Aside.
Whatever you decide to do for your itinerary, there is no doubt Cappadocia will quickly capture your heart. Enjoy the beautiful sunrises, the delicious food, the wonderful surroundings and have the most magical experiences of your life. From here, you can head to the Aegean or Mediterranean to enjoy the sunny beach days.
12. Safety Tips for Solo
Overall, traveling Cappadocia, didn't encounter anything there by way of scams or criminal intention. It's a fairly small landscape, where people know people, so it can feel pretty safe and touristy. However, there are always exceptions to the rule so one should always practice street smarts.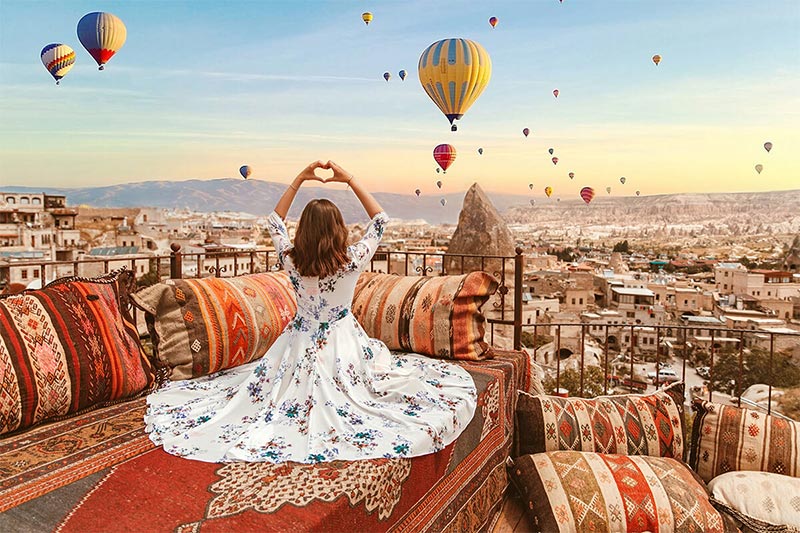 Cappadocia is an absolute highlight of any visit to Turkey. And the effort to get to this remote part of the country to experience the incredible beauty, fascinating history and hospitable people, will be rewarded with unforgettable memories of one of the most unique places we've ever seen. Cappadocia is worth the go!