Hoi An means "peaceful reunion", and peace is exactly the feeling that this city inspires in its visitors. The city earned its World Heritage status in 1999, due to its very well-preserved Old Town. Unlike the Hanoi Old Quarters that represent the ever-changing and ever-moving nature of life, Hoi An Old Town paints a much more serene and static picture. Let's plan your journey to discover Ancient Town Hoi An together with Du lịch tử tế!
Walking in the labyrinth of merchant houses, temples, and ancient tea warehouses, and seeing lit lanterns stringed up between rooftops and hearing the quiet voices of people walking on the streets and admiring the view, there is something magical about Hoi An that is quite difficult to wrap your fingers around.
I. The best time to discover Ancient Town Hoi An
Unlike the north of Vietnam which has 4 separate seasons with different weathers, Hoi An only has two seasons: the dry season from February to August and the rain season from September to January. From June to August, the temperature can rise up to 37 – 38 Celsius degrees, forcing you to stay indoors until late afternoon. From September until January, heavy showers are frequent which may come with typhoons and flooding, especially in October and November.
The best time to discover Ancient Town Hoi An is from February to April, when the temperature is cool and comfortable and the sunlight is not too intense. In April, the temperature could still get pretty high, but is still manageable with a little sunscreen to help with the sun.
II. Transportation to Hoi An
By plane
One option to get to Hoi An is to fly to Da Nang International Airport, and then book a transport from the airport to Hoi An. Da Nang International Airport is about 30 km from Hoi An, so typically it would take 30 – 40 minutes to get there from Hoi An with a car. You can:
– Arrange for a private transport: this is considered the easiest and most effective way to get to Hoi An without any hassle.
– Taxi: you can always wave for a cab, but this could be even more expensive than the private transfer, with a cost up to 350.000 VND.
– Bus: a cheaper alternative is to take a bus to Hoi An. This is a bit more time consuming and is not suitable for a tight schedule. You can reduce the waiting time by booking a ticket in advance.
By bus
– You can transfer from Hue to Hoi An by bus. A popular choice by travelers is to travel by sleeper bus. The seats on these buses are flat, not unlike a bed (some buses have actual bunk beds), very comfortable with plenty of room to lie down and relax. Luxurious buses might even have curtains for privacy or individual TVs for each seat. Most buses go straight to Hoi An as well, so no further transfer is needed.
By train
– Traveling with trains in Vietnam is a rather special experience. Vietnam's trains are not too fast, and it might take you a while to get to Hoi An if you travel from Hanoi, Hue or Ho Chi Minh city. But moving with a slower pace does have its perks: if you have the time, being on the train can be a leisure trip itself. Recently, trains in Vietnam have been upgraded greatly in quality, with many more options in catering (wine, coffee, and various meals and snacks).
II. Accommodation options in Hoi An
There are many options for lodging in Hoi An that would suit your preference and budget. Most of the time, the best location to stay is in the Ancient Town since this is the heart of Hoi An. Staying here puts you the closest to many top attractions, as well as many restaurants, café and bars. There are various forms of accommodation here, and you can try some of these establishment for a comfy stay in Hoi An's Ancient Town:
– Luxury: Anantara Hoi An Resort
– Midrange: Hoian Central Hotel
– Budget: Family Hotel
Another option for travelers who'd like to stay an arm's length away from the hustle and bustle when they recharge for their next day, it is a good idea to find a place to stay in adjacent areas to the Ancient Town like Cam Chau, Minh An, Cam Pho. These areas also offer a wide range of options for lodging, as well as easy commute to the Ancient Town.
III. Hoi An attractions
In the 18th century, Hoi An was a famous trading point, due to its port on the Thu Bon River. The Ancient Town of Hoi An preserved the atmosphere of the once-busy port city very well. During the day, rows of preserved shophouses and restaurants are opened to accommodate guests, and visitors can enjoy the bustling life of Hoi An back in the day. Here are some must-see destinations within Hoi An:
The ancient houses
The ancient houses of Hoi An are the representatives of a bygone era. The most famous ancient houses in Hoi An such as Phung Hung, Tan Ky, Duc An belong to prominent figures of the port city. The architecture of these houses reflected the foreign influence that came with the trading activities through a mixture of Chinese, Vietnamese and Japanese influence, and the household items and furniture helps paint a vivid picture of the daily life of powerful merchants of the past.
"Hoi quan" 
"Hội quán" means "meeting place", and serve their purpose exactly as the name implies. These are the places where merchants from foreign lands met each other and other prominent figures of the city to discuss business, socialize and enjoy themselves. These buildings are magnificent works of highly meticulous architecture, and showcase important cultural as well as religious values of an old Hoi An.
The Bridge Pagoda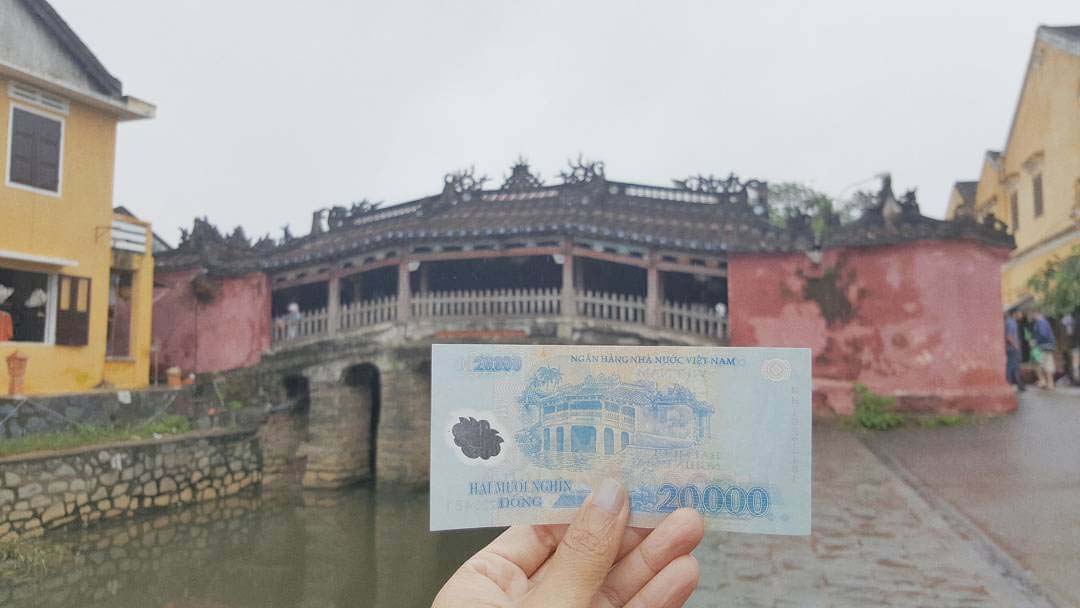 When discover to Ancient Town Hoi An, you must definitely stop at the Bridge Pagoda – a unique destination in the Ancient town. The Pagoda was built on a stone bridge with soft arche, with elaborately painted and carved wooden pillars. During the evening, when the lights on the rooftop are lit up, the pagoda truly becomes a sight to behold.
Hoi An Central Market
Located in the Ancient Town, Hoi An Central Market is a typical Vietnamese open market that sells fresh products, spices and traditional Vietnamese food and snacks.It stays open until late afternoon but it's best experienced early in the morning when it's most active. Hoi An market is voted by Lonelyplanet to be in the top 7 culinary heavens in the world.
IV. Must-try dishes in Hoi An
Chicken Rice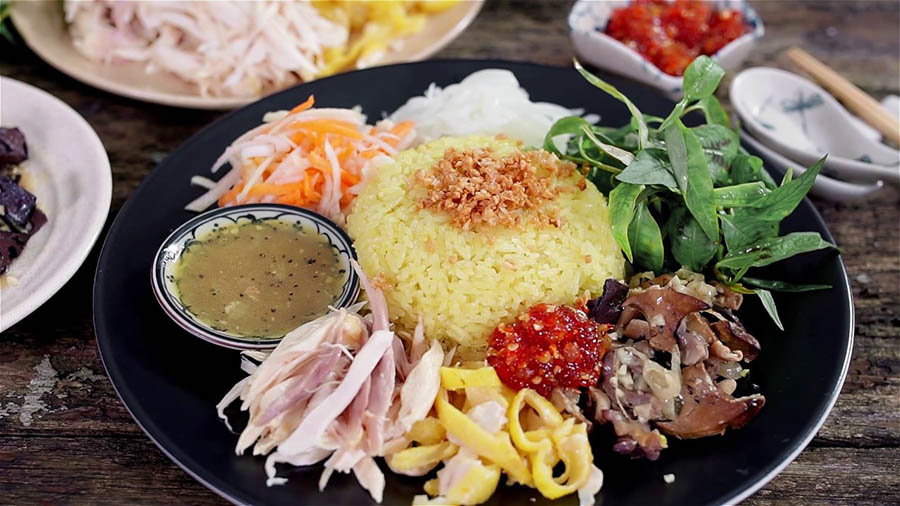 Chicken and rice might sound like an ordinary dish, but Hoi An chicken rice is really something else. The rice is cooked and colored with various spices, and then served with steamed or grilled chicken meat, alongside a cup of fish sauce vinaigrette and sour papaya salad. You might find yourself coming back every day during your time in Hoi An for this delicious and addictive lunch.
Cao Lau
According to the elders in the Ancient Town, Cao Lau is a dish that dates back to the 17th century and is heavily influenced by Chinese and Japanese cuisine. Cao Lau is a delicious mixed noodle meal, with fresh pork and shrimp, crispy pork skin, herbs and chewy noodles. This is a delicious light meal, especially during hot days when rice dishes might prove to be a bit too heavy.
Banh beo
To make delicious banh beo, the cook needs to choose the right type of rice, and prepare shrimp and meat (usually stir fried and seasoned) for toppings. When the guests come to eat, the cook fills up clay/metal cups with thin rice dough and adds the toppings and fragrant onions. To enjoy banh beo, you use a "bamboo knife" (bamboo stick sharpened in the shape of a blade) to pry the cake from the cup.
Above are detailed information about destinations, travel and accommodation for all visitors when discover Ancient Town Hoi An. To make your trip more enjoyable, contact us at Du lịch tử tế to receive more recommendations!