Cat Ba Island is the largest of the 367 islands spanning 260 km2 (100 sq mi) that comprise the Cat Ba Archipelago, which makes up the southeastern edge of Lan Ha Bay in Northern Vietnam. Cat Ba island has a surface area of 285 km2 and maintains the dramatic and rugged features of Halong Bay. This is travel guide to Cat Ba – a mini paradise.
I. Cat Ba Overview
Cat Ba Island is situated at a distance of about 50 km from Haiphong city and 150 km from Hanoi city. Covering more than 26,000 hectares of high biodiversity, Cat Ba is known as the 3rd largest biosphere reserve in Vietnam. Notably, in 2004, this island was recognized by UNESCO as a Biosphere Reserve Zone.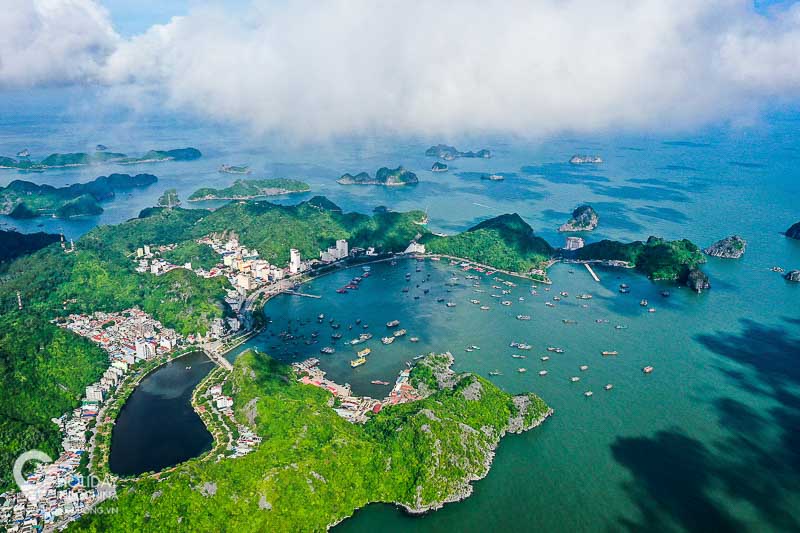 Cat Ba terrain is famous for its karst topography. This kind of topography, characterized by limestone mountains, stunning caves, and smooth white sandy beaches, contributes to the unique beauty of this island. Cat Ba National Park is a World Heritage Site designated as a biosphere reserve in northern Vietnam.
II. Attraction in Cat Ba Island
While not being a dynamic tourism hub, Cat Ba Island is still a great attraction for both domestic and international travelers with unique characteristics: staggering limestone mountains, lush mangrove forests, and untouched sandy beaches.
Cat Ba National Park
The key functions of the park include conservation; scientific research; ecotourism & environmental education; and assistance to local community development. When tourists visit Cat Ba National Park, they can participate in additional tourist activities such as exploring the park's eco system, taking boat trips or rowing kayaks to discover hidden corner of Tonkin Gulf, coral watch, discovering caves…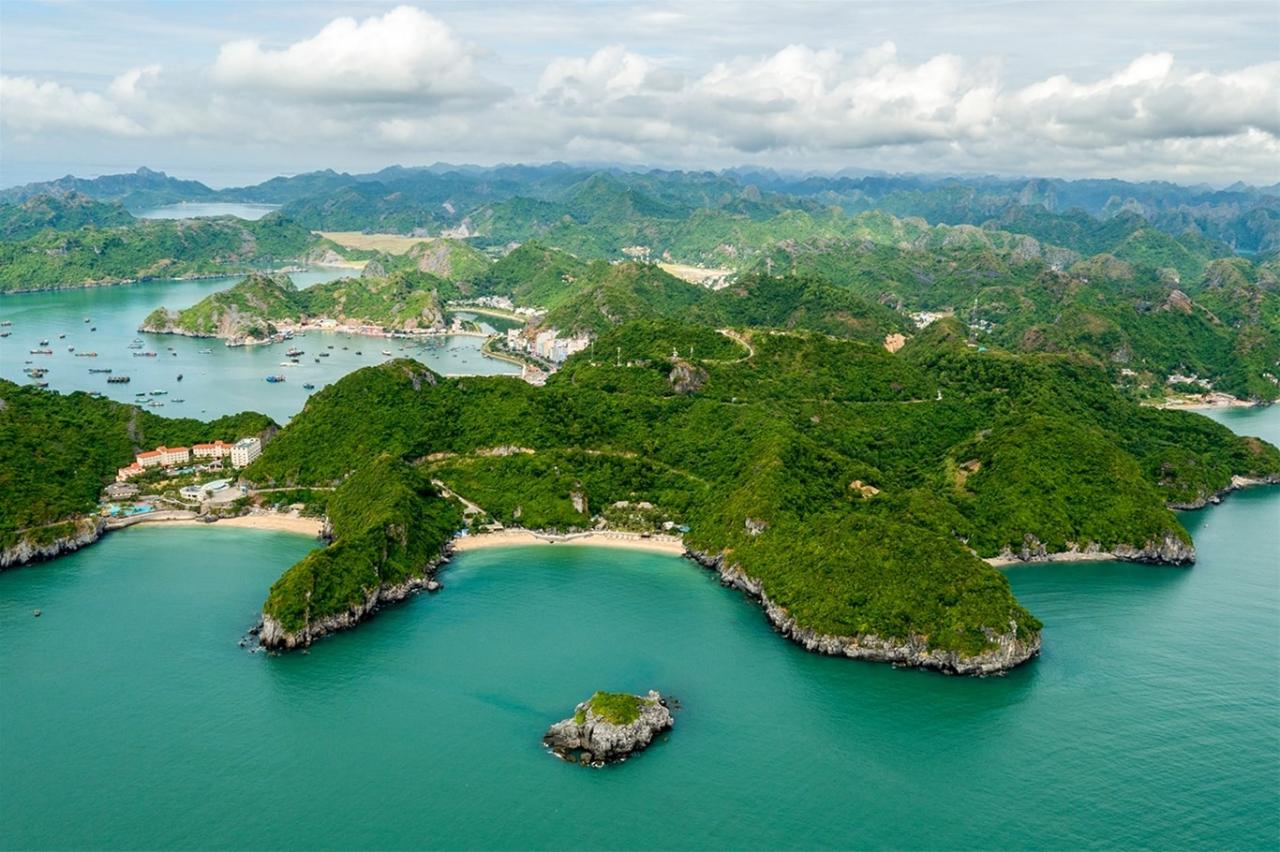 Another activity that visitors can choose to participate in is a animal-watching night tour. The park has 53 mammal species, 55 reptile species, 25 amphibian species, 274 insect species, and 205 species of birds, many of them are nocturnal animals.
Cai Beo Archaeological Site, Hien Hao Temple, Army Medical Corps Cave, Committee Cave. These are all precious cultural and historical sites of Cat Ba.
Lan Ha Bay
This isolated paradise is an ideal beach location, with hundreds of undisturbed white sand beaches. Nestled in the southern part of the glorious Halong Bay and the east of Cat Ba Island, Lan Ha Bay has an area of over 7.000 hectares, of which 5.400 hectares belong to Cat Ba National Park. While the beaches are fairly small, they are surrounded by towering limestone karsts that give visitors lots of privacy.
Monkey Island/ Cat Dua Island
To visit Monkey Island in Lan Ha Bay, tourists will take a boat trip for 10 minutes from Beo pier through Cai Beo floating village and some interesting islets. This island is home to the monkeys under the management of Cat Ba National Park Management Board.
Van Boi Beach

 
In Lan Ha Bay it's a favorite destination that beachgoers select to enjoy kayaking as well as swimming. This beach is nestled in the quiet and transparent areas of the Bay, plus the view is amazing. You can contemplate the harmonious blend of the transparently blue sea, the calm water, and the thrilling cliffs while soaking in a happy mood.
III. Accommodations
Here are some contact for a comfortable stay in Cat Ba:
–        Flamingo Cat Ba resort & spa 5*
–        Hotel Perle & D'Orient Cat Ba Mgallery 5*
–        Catba Island & Spa Resort 4*
–        Sea Pearl Hotel 3*
–        Hung Long Harbor Hotel 3*
–        Drako Hotel 3*
–        Thanh Cong 1,2,3 Hotel 2* & 3*
IV. Tips travel guide to Cat Ba 
Due to the location in the tropical belt of Asian monsoon, Cat Ba's weather pattern is typical for tropical monsoon climate and mainly affected by two monsoon movements including north-east monsoon and south-west monsoon. To be specific, the north-east monsoon features a cold dry winter lasting from November to April. Meanwhile, the south-west humid monsoon in summer brings hot and humid weather which runs from May to October. The best time to come to Cat Ba for beach lovers is from March to the middle of April, or from October to November. For other activities, Cat Ba is viable all-year long.
V. Transportation to travel Cat Ba
From Hanoi 
By bus and ferry
Departing from Hanoi, all tourists can choose more options to go to Cat Ba Island: by bus and by ferry/ by speedboat/ by cable car.
You can choose Limousine or standard bus with the schedule below:
7:30 – 11:00

10:45 – 14:15

14:00 – 17:30

12:25 – 15:55

15:30 – 19:00

7:30 – 11:00

10:30 – 14:00

14:00 – 17:30

9:00 – 12:30

12:30 – 16:00

16:00 – 19:30

8:00 – 11:30

14:00 – 17:30

8:30 – 12:00

12:30 – 16:00

15:30 – 19:00

8:00 – 11:30

10:00 – 13:30

13:30 – 17:00

9:00 – 12:30

12:30 – 16:00

16:00 – 19:30
 * The price/ schedule can be slightly varied; you should check the bus information before departure.
By Train
From Hanoi Central Station, you can go by train to Hai Phong City and back to Hanoi with the following list: Hanoi – Haiphong: HP1, LP7, LP3, LP5; Haiphong – Hanoi: HP2, LP2, LP4, LP6, LP8. The train schedule timing and ticket booking you should check before departure on website of RVC: www.dsvn.vn/ www.vetautructuyen.vn
From Hai Phong City
you can go by bus to Binh Ferry Station/ Got Ferry Station up to your departure location. It takes us about 40 minutes to Binh Station, easily traveling by Cat ba Island Resort Speedboat with a detailed price as 13 – 14 USD for coming to Cat Hai.
From Halong City 
You can go by limousine traveling the distance of 50 km: Halong City – Bach Dang Bridge – Highway Hai Phong Quang Ninh – Lach Huyen Bridge – Got Ferry Station.
VI. Local delicacies
Cat Ba island not only owns beautiful beaches, diverse natural landscapes but also is a culinary paradise with many delicious seafood dishes with a surprisingly reasonable price. Here are some delicacies that you should take the chance to enjo while traveling here:
Horseshoe Crab
The horseshoe crab is a food that is considered highly nutritious, and delicious at the same time. Like most of the seafood in Cat Ba, the horseshoe crabs come fresh from the sea and are always of highest quality.
Otter clam/ Elephant Snail 

 
Otter clam, or elephant snail, is famous for being one of the rare seafoods with high nutrition and special flavor. Cat Ba is a place where the sea is suitable for the growth and development of this mollusk, so otter clams here are extra delicious. Otter clam can be cooked in many ways such as grilling, steaming with fat and onion, steaming with chili, or cooked porridge…
Seafood Shrimp Noodle
The delicious fresh shrimp are caught from the sea, after being cleaned, peeled, then fried with a little cooking oil and dry onions. Along with that are other ingredients such as goldfish paste, Indian taro, lolot leave rolls, a little onion, dill and served together with an aromatic broth, sweet, sour tamarind sauce.
Cat Ba sun dried Squid
Cat Ba dried squid is an indispensable specialty. This is the main ingredient to make a delicious dry burnt squid dish. Dried squid meat in Cat Ba is thick, soft and has a very characteristic aroma that cannot be found elsewhere.
VII. Local shopping Tips
There are no opportunities for exciting shopping on Cat Ba, you can buy only the most necessary things here. There are no shopping centers or large supermarkets, and the main shopping area in the city is the local market on Duong Street. This is a typical Vietnamese market, where everything from fresh fish to simple electronics is sold, there are also souvenirs.
You will need to bargain for a reasonable price, since the offered prices are often several times higher than their real price. The night market are more casual, and is where you can buy dollar-store T-shirts and other sourvenirs.