Australia's most famous icon, the giant Uluru/Ayers Rock monolith is located in the centre of the country's continent. Here are 40 facts and anecdotes you should know before visiting this mythical rock. From legends to traditions, Uluru is full of secrets.
About Uluru – Ayers Rock
Uluru – Ayers Rock is one natural icons of Australia. Rising 348 metres above the plains and a sacred place for the Pitjantjatjara and Yankunytjatjara Aboriginal peoples. Located in Uluru-Kata Tjuta National Park, which is also home to protected Australian outback species, this natural wonder is a UNESCO World Heritage Site, both for its sacredness and for its geological features.
The best times to see the Rock are definitely at sunrise and sunset. Uluru's shimmering, flamboyant colours are a delight to photographers, both amateur and professional. The more adventurous can also enjoy a night under the stars to soak up the mystical atmosphere of the place. Please note that climbing the monolith is not recommended! The aborigines are in complete disagreement with this practice considered blasphemous. Fortunately, standing in front of this gigantic sacred monster will be enough to make you feel transported to a world full of symbols, beliefs and history, in the heart of this red Australian desert!
Interesting facts about Ayers Rock
The names
1. Ayers Rock is the most commonly used name, especially outside Australia.
2. Uluru is the Aboriginal and official name.
3. Uluru does not mean 'waterhole', as you may have read. It is simply an Aboriginal place name referring to both the rock itself and the waterhole above it.
4. Kata Tjuta (the other rock formation in the national park) has a translation. It literally means 'many heads'.
5. The English name commonly used for Kata Tjuta is 'The Olgas' or 'Mt. Olga".
6. The Aboriginal owners of Uluru call themselves Anangu, and ask to be called that. They are often referred to as the 'Yankunytjatjara' and 'Pitjantjatjara' people. These two are in fact the two languages spoken by the Anangu.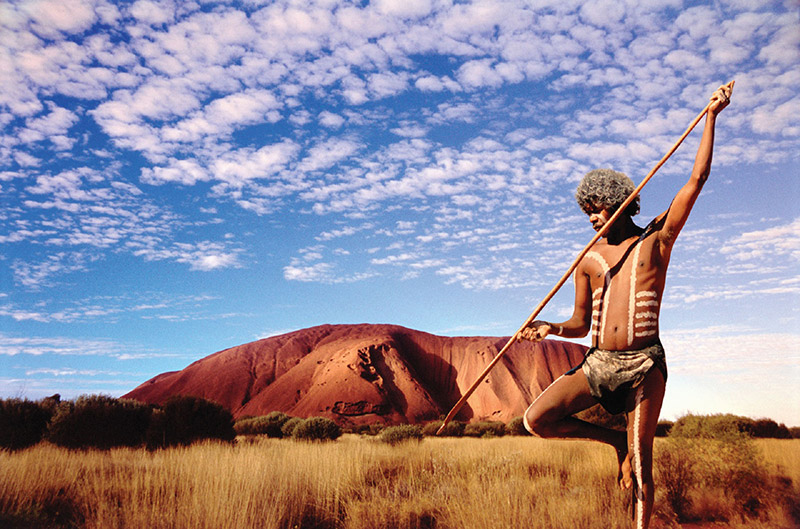 7. Yulara is the name of the Ayers Rock Resort just outside the park. The name means 'weeping' or 'crying'. (Bad tongues say that's what tourists do when they see their bill…).
Location and size
8. Ayers Rock is located in the middle of Australia, actually very close to the actual geographical centre.
9. Ayers Rock is not the largest monolith in the world. That title belongs to Mount Augustus in the US.
10. Uluru is 862.5 metres above sea level, 348 metres high, 3.6 km long, 1.9 km wide, 9.4 km long around the base, covers 3.33 km², and extends several kilometres into the ground, but it is not known exactly how deep.
11. The climbing track (which transgresses an important aboriginal sacred site) is 1.6 km long. But from 26 October 2019 the climb has been closed permanently. Under Aboriginal law, local Aboriginals, the Anangu people are responsible for protecting Uluru and its visitors. They say the site is sacred and have called for the climb to be banned since Uluru was placed in their hands in 1985. They believe that during the time when the world was being formed, the climb was the traditional route taken by ancestral men when they arrived at Uluru. Because of this spiritual significance, they prefer that visitors respect their law and culture by not climbing.
12. Uluru-Kata Tjuta National Park is 1326 km² in size.
13. Ayers Rock Resort (Yulara) is 443km from Alice Springs by road, or 45 minutes by air (from the resort it is a further 8km to the entrance of Uluru-Kata Tjuta National Park, and another 10km to Ayers Rock).
14. Uluru-Kata Tjuta National Park has a desert climate.
15. The area receives a surprising amount of rainfall for a desert (as most Australian deserts do), about 200-250mm per year. During heavy rains, this produces a very rare phenomenon on Uluru.
16. Like all deserts, the region experiences extreme temperatures. Winter nights can be as low as -8°C, and summer days as high as 48°C.
17. During midsummer (December to March), daily maximum averages are 38°C.
Geology
18. Uluru and Kata Tjuta are the remains of a huge sediment that was formed hundreds of millions of years ago.
19. Sand was deposited in a basin that formed about 900 million years ago. It continued to be deposited on the bottom of this ancient sea bed until about 300 million years ago.
20. 550 million years ago mountain ranges were formed. This range eroded over the next few million years, leaving large sediments on the ground.
21. About 300 million years ago, the waters disappeared. The remaining sediments bent and broke up again. In this major process the sediment layers that now form Uluru were tilted, so that today they are at an 85 degree angle. Kata Tjuta was tilted at about 20 degrees. The whole area was raised above sea level in this process.
22. This means that Uluru and Kata Tjuta are the only visible points of a massive underground slab of rock.
23. It could even be argued that the description of Uluru as a monolith is inaccurate, as it is in fact part of this huge underground rock formation which also includes Kata Tjuta.
History
24. Research suggests that Aborigines have lived in the area for at least 10,000 years. This sacred heritage spot is home to an abundance of springs, waterholes, rock caves and ancient paintings. The rock art that can be found at Uluru is around 5, 000 years old and its symbolism is still used today in Anangu sand painting, wooden craft making, body painting and modern artworks.
25. The first white person to see Ayers Rock, at least from a distance, was explorer Ernest Giles in October 1872.
26. The first European to actually visit the rock was surveyor William Gosse on 19 July 1873. He named it Ayers Rock for Sir Henry Ayers, the Chief Secretary of South Australia at the time (at that time the area was part of South Australia).
27. William Gosse was also the first European to climb Ayers Rock.
28. In 1950, Ayers Rock was named a national park.
29. According to some sources, in 1983, Bob Hawke, then Prime Minister of Australia, promised that climbing Uluru would be banned.
30. He broke his promise in 1985. The land was handed over to its traditional owners, the Anangu, on 26 October, on the conditions that they lease the park to the Australian National Park Service for 99 years, that it would be jointly managed, and that Uluru would remain open to climbers.
31. In 1995, the name of the park was changed. From 'Ayers Rock – Mount Olga National Park' it became 'Uluru-Kata Tjuta National Park', reflecting the traditional ownership and close relationship of the Anangu to their land.
Tourism
32. Between 400,000 and half a million people visit Ayers Rock each year.
33. About 1/10 visitors climb Ayers Rock peak.
34. A significant number of people have died mainly from heart failure, but some have slipped and fallen. About 40 people will have died since tourists tried to climb it.
35. The Cultural Centre and Anangu guided walks around Uluru and Kata Tjuta will give you a much better understanding and more meaningful experience than climbing (it's either climbing or visiting).
36. The only accommodation near Uluru is the Yulara Resort just outside the park. Yulara offers different levels of accommodation, from luxury to budget, as well as a caravan park.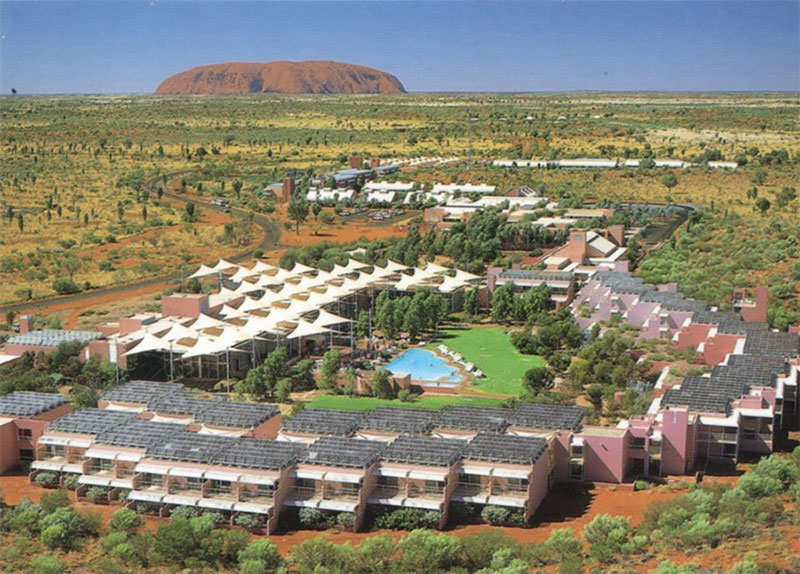 37. To enter the park, you must purchase a pass. The cost is AUD$25 per person over 16, and the pass is valid for three days.
38. Alcohol is now banned on all Aboriginal land in the Northern Territory. This of course includes Uluru-Kata Tjuta National Park. The only exception is for tour operators. So if you want to enjoy a glass of wine or champagne with the Ayers Rock sunset, you must join the masses of tourists.
39. Some areas around Uluru are off limits to photos and cameras. You should refrain from taking photos at certain times.
40. In the museum following the walk around the rock, you will see a 'sorry book' with letters of apology from people who have returned stones stolen from the site by post. There is also a book that says "I did not climb Uluru".
Things to know before visiting Ayers Rock/Uluru
Uluru-Kata Tjuta National Park is open all year round between 5 am and 6.30 am and closes between 7.30 pm and 9 pm, depending on the season.

Avoid queues and purchase the pass online. Price is $25 per adult for a three-day pass, which can be extended to five days at no extra cost.

Visitors are not allowed to spend the night in the park. The tiny town of Yulara houses the Aboriginal-owned Ayers Rock Resort where you can find everything from accommodations (including a campground) to restaurants, shops, and galleries.

The Cultural Centre has free Wi-Fi.

Bring your best camera. This is a once-in-a-lifetime opportunity for taking some phenomenal photos.

Check the weather before you travel and pack accordingly. Keep in mind that Australian seasons are opposite from the Northern Hemisphere.

Wear a hat, sunscreen, and sunglasses to protect yourself from the heat and scorchingly hot desert sun.

The terrain around Uluru is very rough. A pair of sturdy comfortable hiking shoes is a reasonable.

It takes around 3.5 hours to walk around Ayers Rock.

Don't forget to bring insect repellent and a face net. Or buy in Ayers Rock Resort if you forget.

Go to desert, drink lots of water.
Uluru is much more than a giant rock. When seen in the context of tens of thousands of years of history, this magical place with its ever-changing colours takes on a whole new meaning. Only when make it to Uluru, will you begin to understand why a quarter million people every year make the trip from across the world just to get a glimpse of the ancient site.