Who hasn't dreamt of spending a day in a postcard landscape? You are in Vietnam and looking for a heavenly place but you don't know how to choose between Ha Long bay, Bai Tu Long bay or Lan Ha bay? Then this article is for you!
3 bays near Hanoi
You've probably already heard of Halong Bay… And for good reason, it is one of the most popular attractions in Vietnam! These bays are a set of legendary islands, listed as a UNESCO World Heritage Site and divided into three areas: Central Halong Bay, Bai Tu Long Bay and Lan Ha Bay. More than 1969 karst islands are gathered and form a wonderful landscape! As far as cruises are concerned, you will have the choice! Let yourself be tempted by a Tai Chi session on the junk's pontoon, a must in Vietnam.
But Lan Ha Bay and Bai Tu Long Bay have recently caught the eye of travelers and travel bloggers from around the world, and are now widely seen as more laid-back, untouched alternatives to Halong Bay. But what are Lan Ha Bay and Bai Tu Long Bay really like, how do they measure up against their star neighbour – and ultimately, which of the three bays should you choose to visit during your trip around Vietnam?
Which one would suit you best?
¤ Halong Bay, the most popular
Ever since it was designated a UNESCO World Heritage Site in 1994, Halong Bay has been promoted as one of Asia's premier travel destinations. "Ha Long" means "descent of the Dragon" in ancient Vietnamese. It is one of the biggest attractions in Vietnam and really deserves a visit! The activities are very vast: exploring caves, diving, canoeing, fishing, swimming on Ti Top Island… So much to say that there is no lack of choice!
The cruises are numerous, so there is something for everyone! The particularity of this island is also due to the presence of numerous caves. The biggest ones are here. Take a boat from the tourist port of Halong City and head straight for the Surprise Cave. You can admire these magnificent karst formations. Then, a desire to cool off? Dive into the beautiful blue waters surrounding the rocks and take some time to relax. Halong city is also very attractive at night with many pubs and restaurants.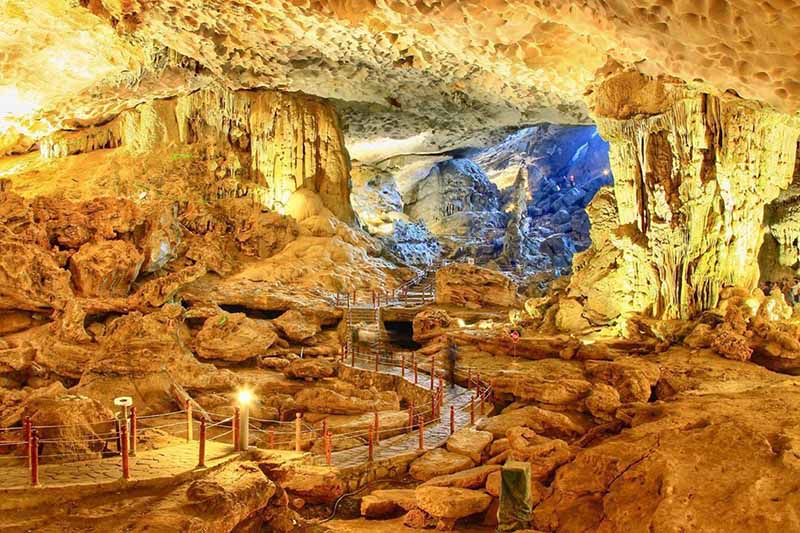 A fantastic nightlife! But you won't be alone; Halong attracts many tourists every year. As you can imagine, this is a jewel of nature that needs to be preserved… Since 2017, the state is reacting and has put in place an environmental policy against pollution.
¤ Bai Tu Long Bay, off the beaten track…
It seems that tourists know little about this heavenly place. Yet this bay also offers beautiful views. If you don't like crowds, then this destination will leave you wanting to discover a quiet and wild land. This bay remains less crowded, so you can meet the islanders and the floating villages. Lovers of kayaking will be able to take full advantage of this leisure activity and sail through these villages.
This vast region is home to many caves, you will find your happiness by venturing into the Thien Canh cave for example! Why not let yourself be tempted by the discovery of ? The one in Bai Tu Long Bay is a mix of discovery between land and sea.
¤ Lan Ha Bay, a "forgotten paradise" …
Recommended for adventurous travellers and hikers, this bay is located east of Cat Ba Island. Sportsmen at heart? There are several trekking and biking tours in the national park of this island. Cleaner and as beautiful as Halong Bay, it is perfect if you like unspoilt places, clear blue waters and above all tranquillity.
Called "a forgotten paradise" with no less than 139 beaches, this bay, which is entirely covered in greenery, is just beginning to develop. You'll have no trouble finding your own ideal spot for canoeing, snorkelling and even for the more adventurous amongst you… rock climbing!
Some tips to choose your cruise…
Hundreds of boats and junks circulate every day. But how to find the one that suits you? Rather 2 days/1 night, or 3 days/2 nights? It's a good question, not easy to answer. One thing is for sure and you will have understood, it is better to choose a cruise in the bays of Lan Ha and Bai Tu Long if you want to avoid mass tourism!
Our small selection of cruises
Halong Bay
Notable places of interest
Ti Top Island (Titov Island)
Three Peaches Beach (Ba Trai Dao Beach)
Tuan Chau Beach
…
Recommended activities
List of cruises
Phoenix Cruise 3***
Gray Line Cruise 4****
Bhaya Cruise 5*****
Bai Tu Long Bay
Recommended activities
Kayaking
Swimming
Snorkeling
Climbing
Cycling
Tuk tuk riding
Notable places of interest
Co To Island
Cap La Island
Bai Tu Long National Park
Thien Canh Son Cave
Vung Vieng fishing village
…
Cruise ships
Swan Cruise 3***
Gardenbay Cruise 4****
Athena Cruise 5*****
Lan Ha bay
Recommended activities
Kayaking
Deep water soloing
Rock climbing
Trekking
Cycling
Swimming
Notable places of interest
Trung Trang Cave
Ao Ech Area
Cai Beo floating village
Viet Hai fishing village
…
Cruise ships
Lan Ha Legend Cruise 3***
Camellia Cruise 4****
Mon Cheri Cruise 5*****
The choice you're facing is not about what you'll see, it's howyou'll see it. Are you more of an independent traveler and an adventure-seeker, not fond of tourist crowds? Are you also ready to spend more time as well as money to reach your destination? Then your safest bet will be either Lan Ha Bay or Bai Tu Long Bay.
But perhaps you don't mind giving up on those romantic visions of poetic solitude in exchange for, well, everything else – the most affordable deal, the most convenient transport from the doorstep of your hotel to the deck of your junk boat, the greatest choice in terms of food as well as parties, sports and activities in the bay. If that's the case, then you're likely headed for Halong Bay!
So, now you can decide which destination is best for you. Let's recap? Halong Bay? Bai Tu Long Bay? Lan Ha Bay?