The thousand-year-old city of Hanoi was originally formed by a citadel, the seat of imperial power, and the merchant quarter, the district of 36 streets and corporations.
Walking through the narrow streets, avoiding the congested traffic, getting lost between the stalls and tasting the local food is already a great experience in the old city.
1. History of Hanoi Old Quarter
The Old Quarter is a district in the heart of Hanoi that dates back to the 15th century and adjoins the shores of the Lake of the Restituted Sword, also known as Hoan Kiem Lake.
Under the Le dynasty, the area included several lakes and wetlands, the largest of which was Thai Cuc Lake. These lakes, along with the To Lich River, were joined by Hoan Kiem Lake and the Red River. Towards the end of the 19th century, these lakes and rivers were isolated from each other by the filling in and dyking along the Red River for the major works undertaken by the French. Only one lake has survived in the old city centre, Lake Hoan Kiem.
During the Ly and Tran dynasties, many people emigrated to the city. They settled in what is now the Old Quarter.
When the French ruled Vietnam, they partially rebuilt the district. During this period, many French and Indians settled here to do business. Two small markets were replaced by the large Dong Xuan Market. A tramway was built through the district.
The old quarter is still the commercial heart of the city.
2. What can you do in Old Quarter?
Visit Hanoi – a city with a thousand years of history. Between the monuments, the buildings, the nature and the many activities available, tourists get lost and end up not seeing much before leaving. To avoid this and to help those visiting Hanoi for the first time, we have put together a selection of attractions in and around the Old Quarter that you shouldn't miss.
Old Quarter streets
The "district of the 36 guilds", with more than 40 streets or alleys dedicated to different trades, is a living open-air museum with undeniable charm.
Each street in the district represented a trade or speciality, and some have retained their specific character. In the old quarter, the merchants were sometimes craftsmen themselves. Here is a brief summary of the street names:
Lãn Ông: This is one of the few streets in Hanoi Old Quarter where the traditional craft has been preserved, with more than 70 establishments specialising in traditional medicine and the sale of remedies.
Hang Be: When Hang Be street was still part of the Red River embankment, wooden and bamboo rafts and household furniture were sold here.
Hang Bo: Hang Bo street used to be famous for its woven bamboo products. You can now find shoes and incense sticks here.
Hang Bong: Hang Bong is a fairly long street where you'll find mainly fashion shops selling clothes, shoes, etc.
Hang Buom: From the end of the 19th century, Hang Buom became a shopping and restaurant street.
Hang But: This used to be a small street where paper, notebooks, brushes and pens were sold.
Hang Ca: When the Red River had not yet been filled in, a lot of fish was raised here. Hang Ca has become a market for fresh fish.
Hang Can: Traditional Vietnamese iron and copper scales used to be sold in this street. Now, a wide variety of products are sold here, including scales.
Hang Chai: Here, poor workers made a living by selling used bottles.
Hang Chi: A small street where weaving threads were sold. Now it's a street where you'll find small restaurants.
Hang Chieu: Reed mats were the most popular goods sold here. Ceramic bowls have appeared on the stalls in recent years.
Hang Chinh: This was a street for jars, large vases and pots, most of which were made of ceramic.
Hang Cot: Bamboo mats were sold here.
Hang Da: This street has long been known as an address for the production and sale of tanned cow and buffalo leather. It is also home to the Hang Da market.
Hang Dao: This is the main and most characteristic of Hanoi's 36 ancient streets. The street specialises in silk and dyes. It is pedestrianised to accommodate Hanoi's night market.
Hang Dau: This street sold vegetable oils (groundnut, sesame, etc.) for cooking and lighting oil lamps.
Hang Dieu: People who wanted to buy pipes or cigarettes went to Hang Dieu street. Leather goods were also sold here.
Hang Duong: One of the most important streets, located near Hoan Kiem Lake. A wonderful place for fans of sweets, it sells food products such as candied apricots and other delicacies.
Hang Ga: A quiet street, different from the other streets in Hanoi's old quarter. It used to be the poultry market.
Hang Gai: One of the oldest streets in Hanoi, it is impossible to miss this street, especially for those who love silk. Silk scarves, silk clothes, etc. are sold here.
Hang Giay: The origin of its name comes from the time when leather shoes and paper were sold here. The shops have been replaced by gourmet restaurants and food shops.
Hang Hanh: This is a pretty street where you'll find restaurants, cafés and the best vermicelli soup in town.
Hang Hom: This street used to be used by locals to sell the wooden crates they used to hold water. Now you'll find shops selling a variety of products.
Hang Huong: There aren't many shops selling incense here now.
Hang Khay: A very beautiful street, right next to Hoan Kiem Lake, with lots of souvenir, painting and decoration shops. If you arrive in Hanoi, you should get to Lake Hoan Kiem and of course you'll pass by Hang Khay street.
Hang Khoai: Today, you'll find shops selling vegetables, vases and bowls in Hang Khoai.
Hang Luoc: Traditional and interesting activities take place on this street, which is also home to the flower market held each year before the Tet festival.
Hang Ma: Here, votive paper objects of various shapes are sold, all made of paper and intended to be burnt as offerings to the deceased.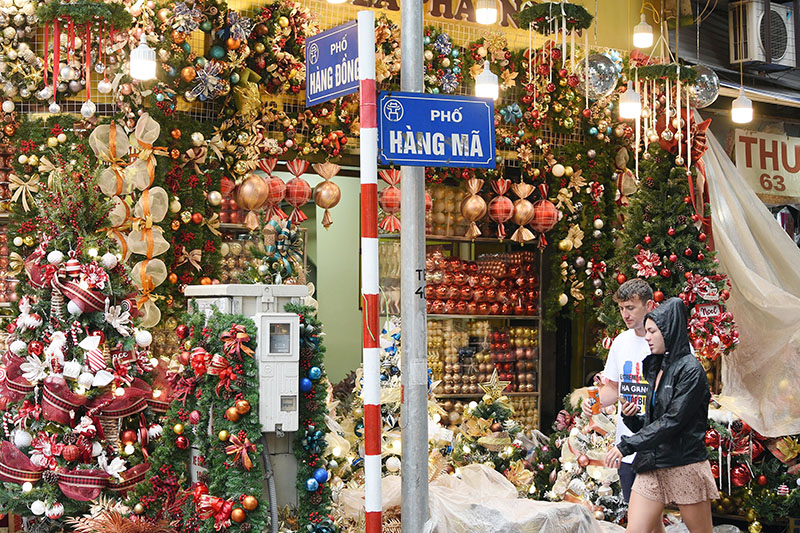 Hang Mam: This is the street where vinegar fish sauce used to be sold. Nowadays, steles, tombs, earthenware and terracotta products are sold here.
Hang Manh: Bamboo curtains and blinds are sold here. You'll also find another speciality, this time a culinary one: "bun cha".
Hang Muoi: A name that no longer reflects the reality of the street and is no longer of particular interest.
Hang Ngang: The perfect place to buy paintings, decorative objects and haute couture clothing. House number 48 on Hang Ngang Street is a historic site where Vietnamese leader Ho Chi Minh drafted the Declaration of Vietnamese Freedom in 1945.
Hang Non: This charming street sells large decorative canvas panels, beautiful women's clogs and window furniture.
Hang Phen: An old little street where you'll find grocery shops.
Hang Quat: A typical street in Hanoi's old quarter, this is where you'll find old-style fans, wooden furniture and decorative canvas panels.
Hang Ruoi: White worms are sold here, and you can sample them in the restaurants, which offer a variety of dishes. Hang Ruoi is also the street of florists.
Hang Than: Here you can sample specialities such as banh com (a delicacy made with rice and mung beans), banh su Kem (cream puffs), etc…
Hang Thiec: A street where tin products are sold. Once on the street, you'll hear the sound of the craftsmen's hammers. One of the few streets that has kept its traditional appearance and still sells the same products as in the past.
Hang Thung: The street of fashion and restaurants. Ba Hong is a famous Nem Chua restaurant with pork rind and meat.
Hang Tre: A small street now home to restaurants and hotels.
Hang Trong: A street famous today for its shops selling paintings and reproductions.
Hang Vai: This street is easy to recognise with its ladders and bamboo sticks.
Tube houses – a special featura of the old quarter
A stroll through the old quarter gives you a real feel for Vietnamese life in the past.
In the late 19th and early 20th centuries, these makeshift structures of bamboo and straw disappeared in favour of small, two-, three-storey, brick-built houses (the first tube houses) with tiled roofs, such as the Ma May house. Hanoi then resembled what Hoi An is today.
Between 1902 and 1953, the colonists made this city the capital of French Indochina, with Hué remaining the Imperial Capital until 1945. The French considerably altered the appearance of the city, constructing colonial buildings, bridges (Long Bien), the tramway, restructuring the main roads and streets, filling in lakes, and trade took off.
With the population growing and trade flourishing, more and more shopkeepers want to set up in the old part of town, but the lack of space and the tax on buildings, which is calculated on the length of the street, mean that "tube houses" ("nha ong" in Vietnamese) are multiplying.
This type of house is often found on a plot that is narrow (2 to 4 metres) and deep (sometimes more than 20 metres). Each house, generally with several storeys (sometimes 6) supported by a narrow base, is divided into different rooms for the family's activities: shop, living room, kitchen, worship room, bedroom, etc. Most of them have lost their tiles in favour of a flat roof.
There are 1153 traditional tube houses in the Hanoi Old Quarter, 273 of which are due to be restored.
Hoan Kiem Lake
Located in the centre of Hanoi, Hoan Kiem Lake is a symbol of national independence for the Vietnamese. It is also known for its beauty and its cultural and historical values.
The lake has had many names, including Luc Thuy, Ta Vong, Huu Vong and Thuy Quan. Its current name, Hoan Kiem, which means "restored sword", dates back to the 15th century.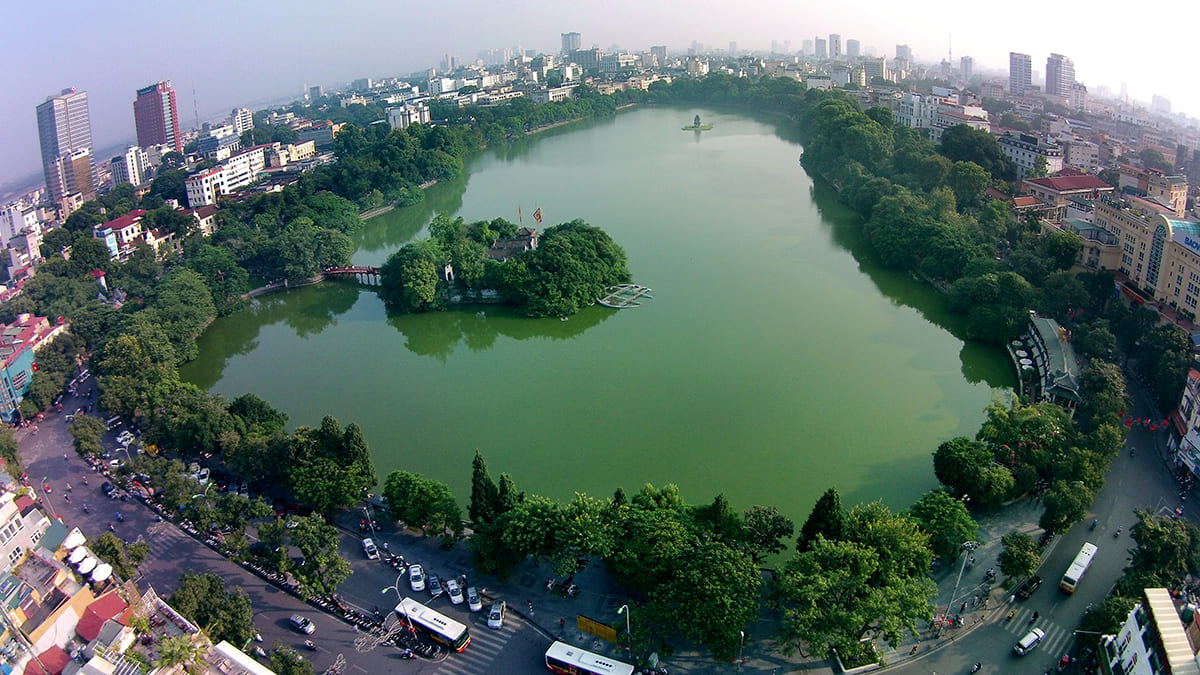 According to legend, King Le Loi, founder of the Le dynasty, received a magic sword from a turtle that would enable him to defend the kingdom against Chinese invaders. After defeating the Minh (Chinese), he returned the precious sword to the golden tortoise.
It takes around 40 minutes to walk around the lake, which is a lovely walk. The lake is well worth seeing at any time of day, from sunrise to sunset. The lake lights up around 6pm.
Ngoc Son Temple
Address: Dinh Tien Hoang street, Hang Trong Ward , Hoan Kiem
Open: 8 am – 6 pm
Entrance fee: 30,000 VND (less than €1.5)/pers.
Situated in the heart of Hoan Kiem Lake, Ngoc Son Temple is well worth a visit to admire the view over the lake, see the temple and the mummified turtle that used to live in the lake.
Built on an islet in the 19th century, Ngoc Son temple is dedicated to the Chinese shrine of Quan Cong, La To, to the scholar Van Xuong and to General Trân Hung Dao, who defeated the Mongols in the 13th century.
At the entrance to the temple, you'll find the Thap But tower (the brush tower). It is made of stone and bears three Chinese ideograms meaning "Write on the azure of the sky".
The passage over the red lacquer bridge (Bridge of the Rising Sun) is very pretty. This bridge is the gateway to Ngoc Son temple.
It's best to visit in the late afternoon, then wait until nightfall (around 6pm) to enjoy the night-time illuminations. In the evening, the lights of the Sunrise Bridge are reflected in the water, creating a magical spectacle.
It's a romantic, lively and colourful place.
Ma May ancient house
Map: Address: 87 Ma May, Hang Buom, Hoan Kiem district
Opening: 8.30am-12pm / 2pm-5.30pm
Entrance fee: 10,000 VND (less than 50 cents)/pers.
Ma May street was known as "Rue des Pavillons Noirs" during the French colonial period. It was one of the busiest streets in the old quarter. Ma May's house has been inhabited by several generations of shopkeepers (the first were herbalists). The house was recently completely renovated with the help of the Toulouse region in France. The house is typical of the first tube houses, with three successive buildings intersected by courtyards that allowed air and light to enter.
The ground floor has a large space (a living room) for guests, a space with a skylight and, at the back of the courtyard, the kitchen, sanitary facilities and a storage area. On the first floor, you will find the bedroom and dining room with the ancestral altar on the street side. The Vietnamese honour their ancestors by placing flowers, fruit and incense sticks on the altar. At the back of the first floor, there is a huge veranda where the children of the house used to play.
Today, the house is an ideal venue for cultural events and artistic exhibitions – Ca Tru songs.
Dong Xuan Market
At the end of the 19th century, the French had the To Lich river drained and filled in to make the district denser. In 1889, they replaced the old markets in a new structure: Dong Xuan Market. This market, also known as the Grand Marché by the French, is one of the largest and oldest markets in Hanoi.
The market building has five vaulted roofs and a covered area of around 6,500 square metres. In July 1994, the market was almost completely destroyed by fire. After the fire, the market was rebuilt between 1994 and 1996.
This is a typical place where you can immerse yourself in the atmosphere of Vietnamese markets. In Dong Xuan market, you can find absolutely everything you're looking for.
Every Friday, Saturday and Sunday evening, a night market is held in the surrounding streets. Don't miss this opportunity to sample traditional North Vietnamese dishes.
Old Quarter night market
Every weekend, from Friday to Sunday, from Hang Dao street towards Dong Xuan market, an Old Quarter night market is held from 7pm. It's the perfect opportunity to stroll around the city centre, eat, bring back a few souvenirs and meet some unforgettable people.
The market is around 3km long (from Hong Dao to Dong Xuan). It is made up of hundreds of stalls selling fresh food, clothes, accessories, souvenirs and handicrafts. All the pavements are used by street vendors on foot or by bicycle.
Come and stroll down the aisles of this night-time market to enjoy a pleasant and convivial time.
Long Bien bridge
Built by the French company Dayde et Pillé between 1898 and 1902, the Long Bien Bridge is considered to be the oldest bridge in Hanoi. This metal structure was named Paul Doumer in honour of the Governor General of Indochina – Paul Doumer.
The bridge is 2,290 metres long and has 19 spans made of steel girders. During the wars, the bridge suffered irreparable damage. American bombing damaged the bridge's central structure, but the Vietnamese rebuilt the road.
Today, the Long Bien bridge allows trains, pedestrians, bicycles and scooters to cross the river, but cars are not allowed.
A little long to cross on foot, but you'll have a great view of the Red River and Hanoi. Halfway across, you can go down to Banana Island for a view from below, or enjoy grilled sweet potatoes, tea, grilled corn,… on the sides of the bridge.
Opera House
Map: 1 Trang Tien, Phan Chu Trinh ward, Hoan Kiem district
Located in the heart of Hanoi, near Hoan Kiem Lake, and dating from the French colonial era, the Hanoi Opera House is one of Vietnam's most famous architectural symbols. Inspired by the architecture of the Garnier Opera House in Paris, it was completed in 1911 and became a beautiful building left by the French.
The Hanoi Opera House has three main areas: the main hall, the hall of mirrors and the auditorium. Firstly, the main hall is the first place where guests are welcomed into the theatre. Next, the Hall of Mirrors often hosts important ceremonies, press conferences and artistic programmes. Finally, the auditorium is the Opera's largest space, seating up to 870 spectators. Its ceiling is richly decorated with elegant paintings by French artists. Copper lamps on the walls add to the beauty of the space. At the back, there are 18 dressing rooms, 2 rehearsal rooms, offices, a library and a meeting room.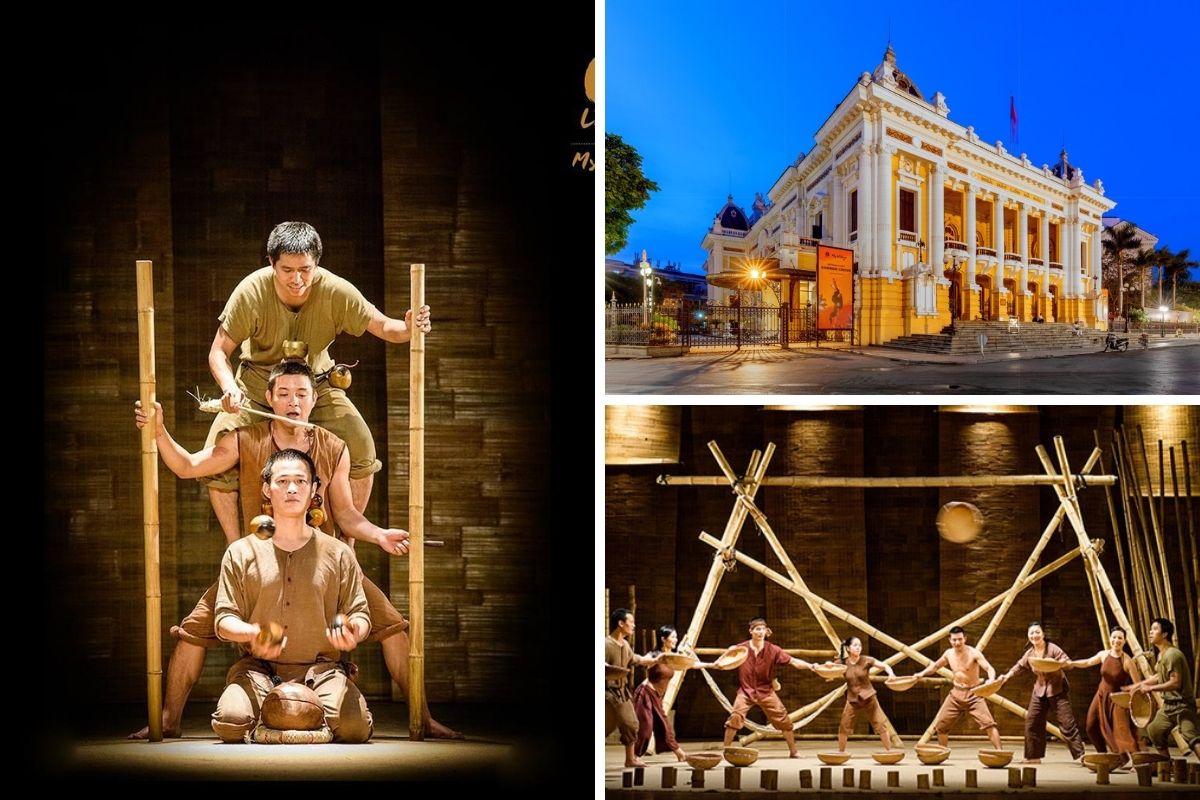 During your stay in Hanoi, we strongly recommend that you attend a show or performance held here. Làng Tôi – My Village: a superb show in which the poetic beauty of village life in northern Vietnam is presented through the approach of the Vietnamese bamboo circus.
St Joseph's Cathedral
Located in Hanoi's old quarter, St Joseph's Cathedral is a great place to visit and is part of Franco-Vietnamese history. Cathedral was consecrated during the Christmas mass in 1886. It was built on the site of the former Bao Thien pagoda, which dated from the 11th century.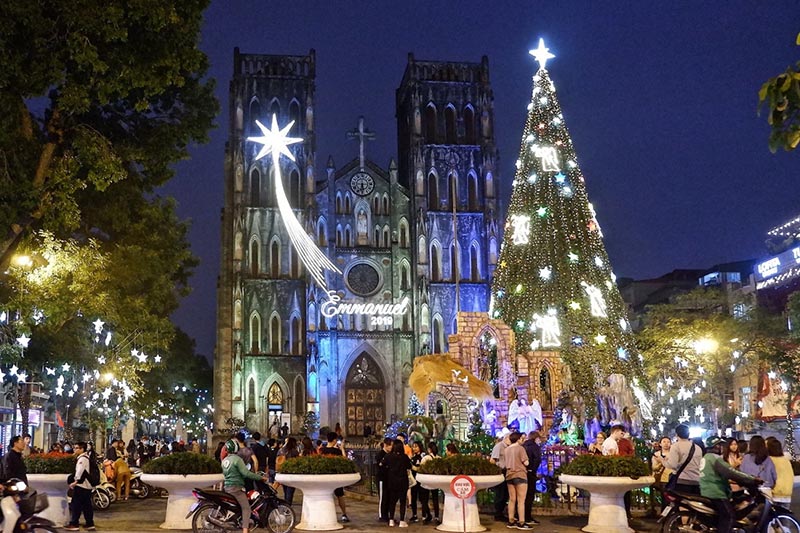 It was built under the episcopacy of Monseigneur Puginier in the neo-Gothic revival style then in vogue in France. It is reminiscent of Notre Dame de Paris. The cathedral is 64 metres long and 20 metres wide, and its two towers rise to a height of 31.5 metres. Its massive two-tower entrance, stained glass windows and interior furnishings are well worth a look.
Puppet on Water 
Water puppetry (mua roi nuoc) is a unique and enchanting art created by Vietnamese peasants. Recognised as far back as 1121, this art form originated in the villages of the Red River Delta region in northern Vietnam.
The little dolls recount the daily life, work and games of the villagers. Literally, "mua" means "dance", "roi" means "puppet" and "nuoc" means "water". In general, a doll measures around 40 centimetres and is made up of two parts: the 'body' that floats on the water and the 'support' under the water that keeps the puppet in balance.
Water puppets have always been a familiar sight to tourists.
In Hanoi, near Hoan Kiem Lake, there are two theatres that put on water puppet shows every day: the Thang Long Water Puppet Theatre and the Bong Sen Water Puppet Theatre.
Thang Long Water Puppet Theatre
Address: 57B Dinh Tien Hoang, Hoan Kiem, Hanoi
Bong Sen Water Puppet Theatre
Address: 16 Le Thai To, Hoan Kiem, Hanoi
Admission: from VND100,000 (less than €5)/person
Street food in Hanoi Old Quarter
Between restaurants and home cooking, there's street food. In Vietnam, as in many other Asian countries, street food caters entirely to the needs of locals and tourists alike. In Hanoi's old town, all you have to do is wander around and you'll come across a good dish.
Street food – it's more than just a meal, it's always a great way to discover local life!
Hanoi culinary specialities to try :
Banh goi (Meat turnovers)
Banh tom (Prawn fritters)
Nem lui (Grilled pork skewers)
Cha ca (Grilled fish with turmeric)
Bun rieu cua (Crab noodle soup)
Banh cuon (Vietnamese ravioli)
Che (Vietnamese dessert – a kind of dessert compote)…
Near the Dong Xuan market, you'll find a succession of stalls where you can sample the local specialities.
Cooking classes
If you're interested in Hanoi's gastronomy, why not learn how to prepare typical dishes yourself under the guidance of a Vietnamese chef. It's an opportunity to discover a totally different culture.
Start with a stroll through a local market where you'll find plenty of fruit, little-known vegetables and all the other fresh ingredients for the cooking class. Then you'll be guided through some of the best-known recipes, such as Nems, Pho noodle soup, Bun Cha or egg coffee, and even vegetarian dishes to suit everyone's tastes.
It will be a great experience in itself to have a local who is very knowledgeable and passionate about explaining Vietnamese cuisine, aromatic herbs, the country's different sauces and so on. In just a few hours, you'll be won over by the local cuisine, which you can then reproduce at home to please your family and friends.
Duong' Restaurant cooking class
101 Ma Mây, Hoan Kiem, Hanoi
08:30 am – 12:30 am / 14:30 – 18:30
Apron Up Cooking Class
3rd floor, 66 Bat Su, Hoan Kiem, Hanoi
Schedule: 09:00 – 12:00 / 11:30 – 14:30 / 16:00 – 19:00 / 18:30 – 21:30
Rose Kitchen
294 Kim Ma, Ba Dinh, Hanoi
Schedule: 09:00 – 13:30 / 15:00 – 19:30
Best dishes in the old quarter
Phở – Vietnamese soup!
One of the most popular dishes, Pho is a real delicacy that you absolutely must try. It is never difficult to find Pho in Vietnam, especially in Hanoi, a Pho full of flavours, good meats, noodles and various herbs that will delight you!
Address:
Pho Ly Quoc Su – 10 Ly Quoc Su, Hoan Kiem
Pho Suong – 24B ruelle Trung Yen, Dinh Liet, Hoan Kiem
Pho Bat Dan – 49 Bat Dan, Hoan Kiem
Pho Thin – 13 Lo Duc, Hoan Kiem
Bún Chả
One of Hanoi's signature dishes, bun cha Hanoi is a delicious traditional dish. The bun cha is made from grilled pork served on rice vermicelli and a tasty sauce.
Address:
Bun Cha Dac Kim – 1 Hang Manh, Hoan Kiem
Bun Cha Cua Dong – 41 Cua Dong, Hoan Kiem
Bun Cha Tuyet – 34 Hang Than, Ba Dinh
Bun Cha Hang Quat – 74 Hang Quat, Hoan Kiem
Bánh Mì
Probably one of the Vietnamese people's favourite dishes, and one that is becoming increasingly popular around the world, Banh Mi is a real delicacy that you absolutely must try.
It's a kind of large sandwich made from bread and stuffed with vegetables, meat and herbs, and can be eaten on the go at any time of day!
You can find it just about everywhere on the street.
Address
Banh mi Pho co – 38 Dinh Liet, Hoan Kiem
Banh mi Ba Dan- 34 Lo Su, Hoan Kiem
Banh mi Nguyen Sinh – 19 Ly Quoc Su, Hoan Kiem
Hanoi egg coffee – cà phê trứng
Egg coffee was born in Hanoi in 1950, made from egg yolks, sugar, condensed milk and coffee. It is undoubtedly one of the drinks not to be missed during your visit to the capital.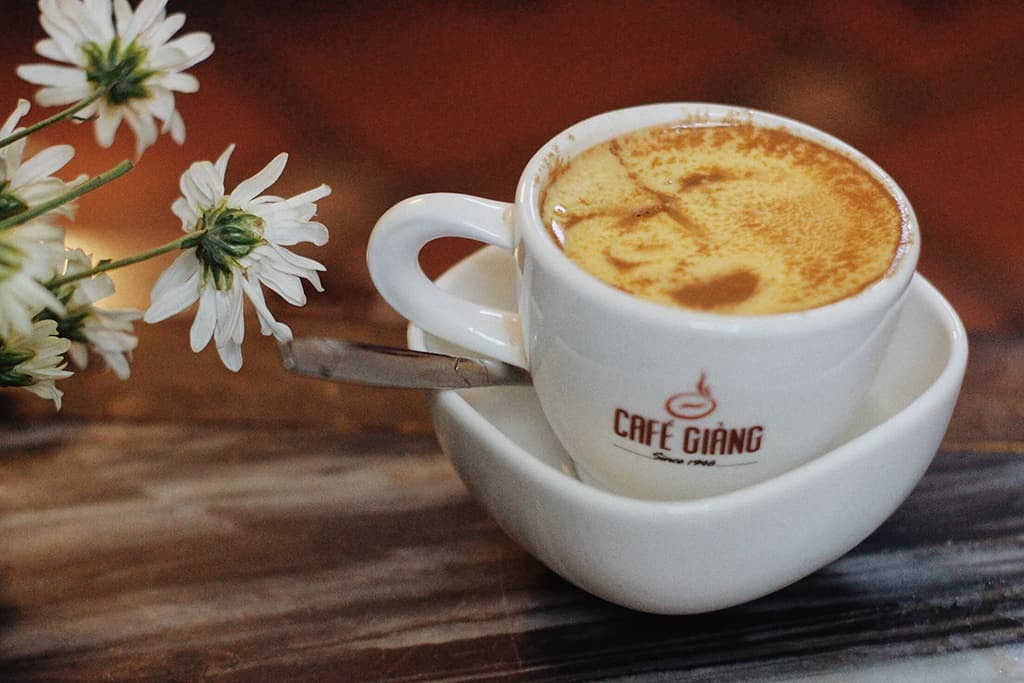 The original recipe calls for a good dose of condensed milk mixed with egg yolk. The hot black coffee is then poured into a cup and the frothy egg is gently added, creating a floating island on top of the coffee.
A real delight! If you want a little coffee after a visit, go there, you won't regret it.
Address:
Giang Café – 39 Nguyen Huu Huan, Hoan Kiem
Leu Coffee & Bar – 1 Ta Hien, Hoan Kiem
Loading T café – 2nd floor, 8 Chan Cam, Hoan Kiem
For a complete tour combining street food with the discovery of streets and remarkable monuments, don't hesitate to contact Vietnam Itinerary, which will organise a day, half-day, guided tour, on foot or by motorbike… for you.
Lots of surprises await you during your visit to Hanoi Old Quarter!
https://vietnamevasion.com/visite-du-vieux-quartier-dhanoi-une-pepite-au-coeur-de-la-capitale/