Hanoi Draft Beer is one of the representatives of the culture of the capital of Vietnam. This type of draught beer, or Bia Hơi in Vietnamese, has "the only secret – a centuries-old tradition" that has captivated generations of beer lovers over the years.
Hanoi draft beer has long been a favourite drink of the capital's residents in particular and Vietnamese in general. Getting together with friends and colleagues after work over a glass of beer has become a familiar culture for Hanoians. In many people's memories, the image of "long queues" to buy half-litre glasses of draught beer is still intact.
"Three sous for the beer, one sous for the peanuts" was enough to create an elegant pleasure. During the post-war subsidy period, everything was scarce, but the glass of Hanoi draught beer was still a favourite and favoured drink for many people. It's also the taste that many of the capital's children away from home still crave, and for those who come to Hanoi, draught beer is an experience not to be missed.
Hanoi beer preserves the original yeast strain
Why do people like Hanoi draught beer? Yeast strains play a very important role in the beer production process, helping to convert sugar into beer, creating the product's characteristic flavours. Different yeast strains will create beers with different flavours. It's also the first secret in helping draught beer make its mark on the minds of beer lovers, from the first batch of draught beer to the familiar Bia Hoi mugs that still serve consumers today.
The brand representative said that the original yeast strain for Hanoi draught beer came from the Hommel brewery – the predecessor of the Hanoi brewery – in the 1890s. In order to maintain the highest quality, the yeast strain of this Vietnamese speciality is kept in the first celebrity bank in Europe, strictly controlled under international standard conditions by an intensive yeast conservation method.
The brand representative said that Hanoi draught beer still uses this original yeast strain to create products with unique flavours that remain unchanged over the years.
The secret of double deep-cooling filter technology
Hanoi Draft beer uses deep-cooling double-filter technology to help it retain its characteristic, unique flavour. The HABECO brewery applies deep-cooling double-filter technology imported from Europe.
The minus C rapid cooling technology creates the optimum environment for Hanoi draught beer to retain the unique refreshing beer taste that no other beer has. In addition, dual filter technology helps the beer to have an iridescent golden colour, different from the colour of other canned and bottled beers. The result of the deep-cooling dual-filter technology offers consumers a relaxing and refreshing experience from the first sip to the last every time they enjoy Hanoi draught beer.
The original taste that doesn't change over time is the secret to helping this kind of drink win customers for generations past and present, as well as expanding the national market. Currently, the brewery has launched a number of products in 500 ml cans and 1 litre bottles so that Hanoi draught beer lovers can enjoy it wherever they are.
Hanoi Draft Beer culture
Drinking draft beer in Hanoi is very much a community affair. So you hardly ever see anyone drinking it alone. Groups of friends drinking beer together usually sit around a low table outside, in a small restaurant, eating together light snacks such as tofu, snails, peanuts…
When sharing a table with other friends, it is completely impolite to drink alone and not to invite other friends to drink. In drinking culture of Vietnam, people like to drink together.
But don't worry if you don't drink much. Vietnamese people today don't put too much emphasis on drinking alcoholic beverages. By refusing to drink, perhaps the people around you will tease you with a few phrases. But few people will force you to drink.
Hanoi draught beer is served in restaurants " Bia Hơi Hà Nội". In some other restaurants, customers will be served cold beer, but most people drink beer with ice in a glass.
People put a lot of ice in beer, this ice is totally free. In some beer pubs, there are waiters who go round the tables to look at the empty glasses and refill them automatically. Sometimes you don't have time to say no, but over time you get used to it, as several expats have admitted.
It is said that Hanoi draught beer must be drunk from a kind of rustic glass dating from the post-war subsidy period. This object has become "legendary", as it is associated with the nostalgia of Hanoians of the old days – the unforgettable years. If you suggest changing the glass, people will say that when it's put in another kind of glass, however pretty and modern, it won't be Hanoi draught beer any more.
The slogan "Một, hai, ba dô – 1, 2, 3 zo!"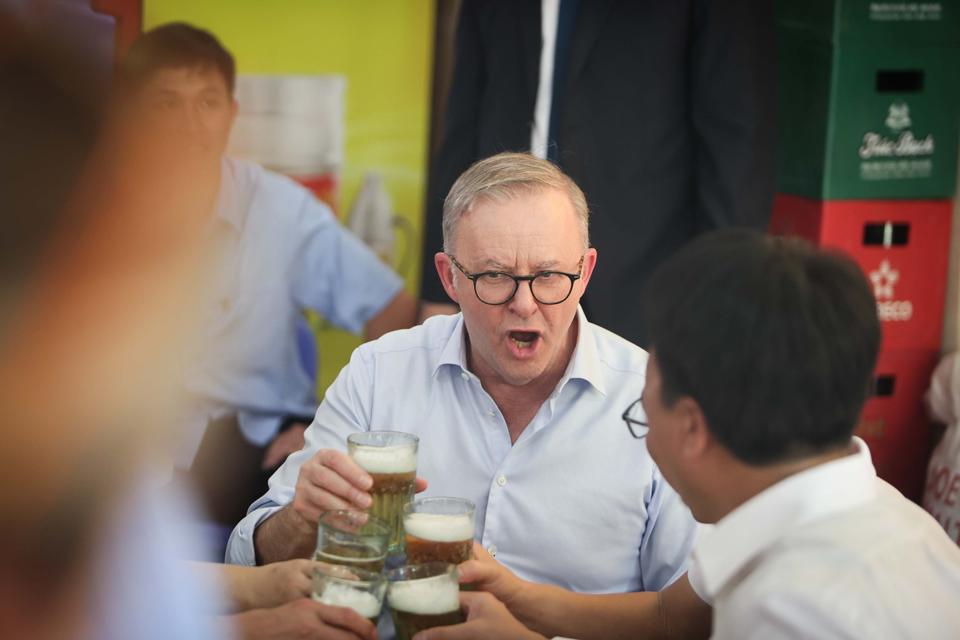 Một, hai, ba dô – 1, 2, 3 zo! Beer drinkers in Vietnam in general or Hanoi draught beer drinkers use this "slogan" a lot and people also create a lot of situations, there are some very "funny" situations, the aim of which is for everyone to raise their glass. "Someone said a joke that was too funny? Someone has just told you some good news? I'm a stranger and look confused by what's going on? Raise your glass!
Trăm phần trăm – 100%!
When 2 people drinking separately because of a "You have to raise your glass" event, they say " trăm phần trăm – 100%". But it's not a race! If someone else offers you a hundred per cent drink, they want you to finish the beer and turn the glass upside down to prove there's not a drop left in the glass. But if you don't want to drink it all, you say fifty per cent – 50% for example…
In fact, the whole point of drinking beer is to make everyone happy and egalitarian. We want everyone to participate in the party together in an active way. But don't feel guilty about saying no and you can drink Hanoi Draft beer your way.