East Asian Buddhism is a very prominent religion. For many centuries, it has exerted its influence on the lifestyles, the architecture, and the traditions of people all over the world. Buddhism has many different branches and schools in different countries: China, Vietnam, Thailand, Japan, etc.
Although these branches and schools differ slightly from each other, Buddhism is a religion that is deeply peaceful, encouraging people to look within themselves to find strength and peace. Let's discover the significance of East Asian Buddhism and one of its most well-known rituals – meditation, with Du lich tu te.
1. Buddhism transmission into China by the Silk Road
The legendary Silk Road trade route that connected the Eastern and Western worlds shaped our history. Caravans by caravans, alongside trade goods and wealth, knowledge and culture from the two worlds bled into each other, harmonizing their differences and combining their similarities. Buddhism is a prominent religion in Asia, and it first migrated into Asia through the Silk Road in the 1st or 2nd century CE. Theravada Buddhism spread throughout Southeast Asia, while Sarvastivada Buddhism was transmitted from North India through Central Asia to China. Buddhism has gained incredible significance in the spiritual life of East Asians.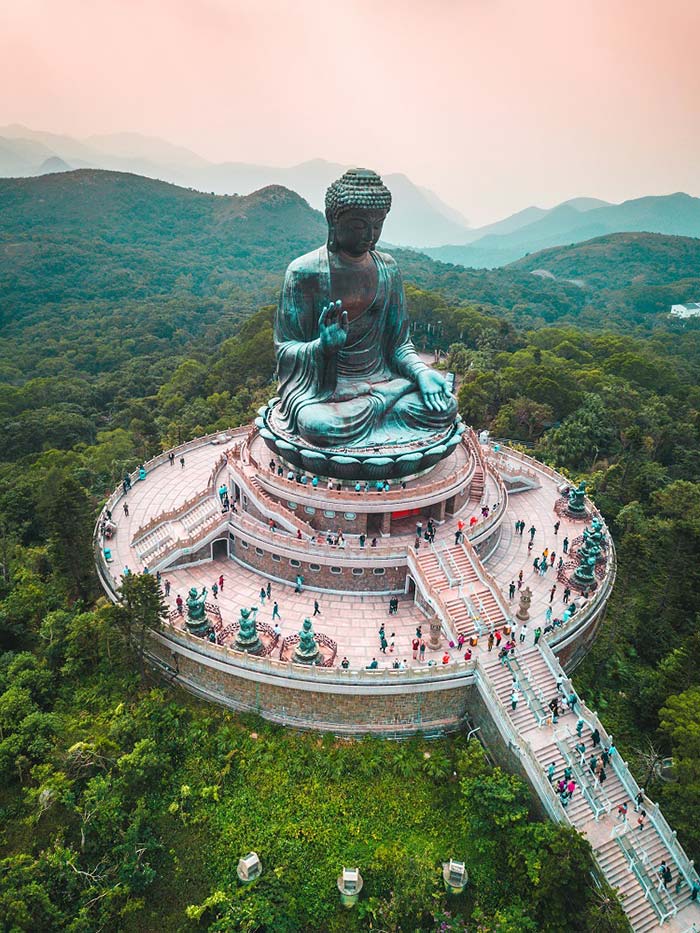 From the 4th century onwards, Chinese pilgrims started to journey to India, the birthplace of Buddhism, in search of the original scripture. These journeys inspired the incredibly famous novel "Journey to the West", widely considered to be one of the most popular literary works in East Asia and featuring the legendary and iconic figure of the Monkey King, Sun Wukong. The perilous journey to the West of the four main characters in the novel to search for the "True Scripture" symbolizes one's spiritual journey to find enlightenment through Buddhism.
The name of the Monkey King, Sun Wukong, means " Awakened to nothingness," implying the ultimate goal of Buddhism: to find the state of mind called Nirvana. To find Nirvana is to find enlightenment in emptying the mind of desires and mortal thoughts and even the sense of self, or in other words, awakening to nothingness.
2. East Asian Buddhism and meditation
"Buddhism" is an occidental neologism, commonly used as a translation for the Dharma ( "righteousness", "merit" or "religious and moral duties" governing individual conduct) of the Buddha, The philosophical concept of Buddhism revolve around the Four Noble Truths.
The Four Truths express the basic orientation of Buddhism: we crave and cling to impermanent states and things, which is called "dukkha" (meaning "incapable of satisfying" and "painful"). Dukkha refers not to the traditional meaning of suffering, but to the unsatisfactory nature of temporary states and things, including pleasant but temporary experiences. Our happiness depends on states and things which are impermanent, and therefore cannot attain real happiness.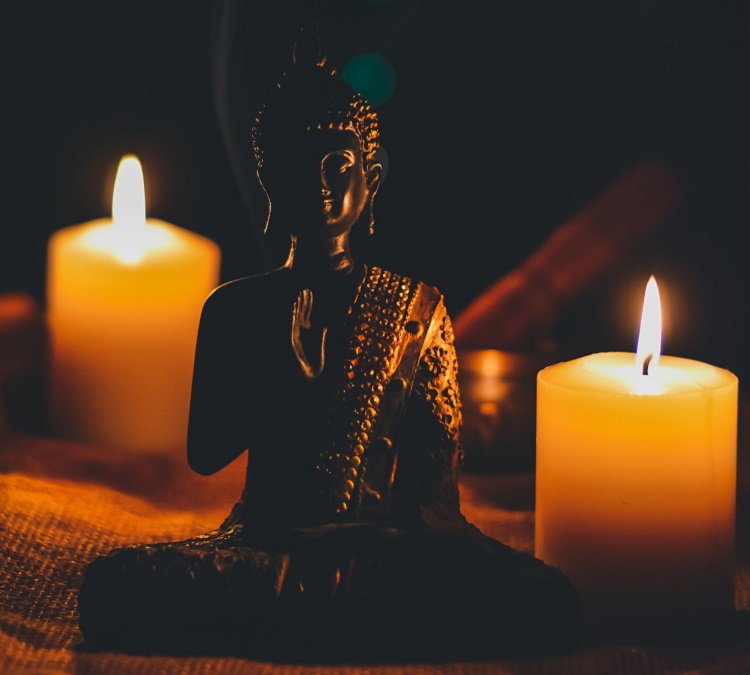 The state of dissatisfaction keeps us in "samsara", the infinite circle of life, death and rebirth, suffering through "dukkha" each time. But there is a way to break this circle, and enter the state of infinite inner peace: Nirvana. This is considered the final goal of Buddhism, a transcendent state in which there is no suffering, desire, sense of self, where one is released from the infinite circle of samsara and reaches Buddhahood.
Nirvana can be achieved by following the Noble Eightfold Path. The Path aims to guide people to find Nirvana through the right view of life's values, peaceful thoughts and concentration, and the ability to detach oneself from the temporary joys and pains of mundane life. The various rituals of Let's discover the significance of East Asian Buddhism and one of its most well-known rituals – meditation, with East Asian Buddhism revolve around honing one's senses and concentration towards this goal.
3. Meditation – the art of peace
Out of all Buddhist rituals, meditation has the greatest importance to the mental development of all Buddhist disciples. The closest words for meditation in the classical languages of Buddhism are bhāvanā, which means "mental development". The goal of meditation in Buddhism is considered a form of mental training that would result in a calm and transcendent mind.
There are various techniques in Buddhism meditation, each with their own focus: mindfulness of breath, recollection of memories, introspection, clarity of thoughts… These meditation techniques are preceded by and combined with practices such as reading scripture, moral restraint with strict diet, or praying to Buddhist deities, which aid this development.
 In modern times, the act of meditation no longer exclusively represents the search for the Buddhist truth, but also the search for a way of life that centralizes around a healthy mind and the feeling of peace and serenity.  Meditation has a positive connection with mental health, alongside other health benefits and high quality of life, and is quickly being adopted by many who search for a respite from the stress and worries from daily life. The definition of meditation also changed in this context, as nowadays any activity that concerns finding clarity of thoughts and relaxation of the mind is considered a form of meditation.
4. Places for meditation retreats in Vietnam 
Although modern meditation does not require one to be a devotee to Buddhism, one would benefit greatly from understanding the ideology behind the act, as well as its origin in Buddhism. Thus, meditation retreats are slowly becoming a notable sub-branch of wellness tourism, as many people attempt to search for a better understanding of Buddhism as well as find a way to better connect to their inner self.
 In Asia, there are many destinations for a meditation retreat, due to Buddhism being a central religion with a long history on this continent. Vietnam is one of many countries in Asia where Buddhism flourished, and the country shows this influence in spades. Here are some destinations in Vietnam that can give you inspiration for a more spiritual life:
Yen Tu Buddhist Heritage Complex
Yen Tu is a mountainous region in North East Vietnam. Not only home to great natural scenery, Yen Tu also has one of the oldest, largest and most complex clusters of Buddhist temples, pagodas and constructs in Vietnam. This is where Truc Lam School of Meditation, a very prominent school of meditation with great historical and spiritual tourism values, originated from. Thousands upon thousands of devotees come here every year to burn incense and show their reverence, as well as praying for divine protection and peace of mind.
Phuong Boi Hill and Forest
Thich Nhat Hanh is an exemplary figure in the Buddhist community. He has made great contributions to Buddhism through his teachings and wisdom. Called "the Father of Mindfulness, Nhất Hạnh has been credited as one of the main figures in bringing Buddhism to the West, and especially for making mindfulness well known in the West. He shared friendship and mentorship with many iconic figures in human rights activities such as Martin Luther King Jr., who shared his thoughts about Thich Nhat Hanh: "His ideas for peace, if applied, would build a momentum to ecumenism, to world brotherhood, to humanity".
In his journal "Fragrant Palm Leaves", he described Phuong Boi as his favorite retreat to meditate, study , write and contemplate. The forest is described with poetic details, with beauty that only a "mind's eye" can see. The wooden cabin he and his friends built still remains until this day. Phuong Boi is easily reached off Highway 20, the main road between Saigon and Dalat, and therefore makes a great destination for a quick visit if you are traveling between these two cities.
This articles only covers some basic ideas of the vast religion that is East Asian Buddhism. This is a spiritual force that has pushed people to accomplish incredible things in the past, and Du lich tu te would like to humbly invite you on a journey through Asia to experience this yourself.