Chasing clouds in Vietnam has been a common topic among travellers in recent years. It is an absolutely incredible and photogenic phenomenon. Due to atmospheric and meteorological conditions, layers of white clouds form and progress over the mountains. This is when the "miracle" happens, a sea of floating clouds stretches as far as the eye can see! Below are some destinations where you can observe this unique natural phenomenon.
Ta Xua
About 240km from Hanoi, Ta Xua is an adventurous destination for cloud chasers. With an altitude of 2865m, this mountain is ranked among the 10 highest mountains in Vietnam. It is naturally located in a border between the two provinces of Son La and Yen Bai. Its three main peaks form a rough line resembling the "backbone of the dinosaur", which is also one of the best places to view the cloud paradise.
The ideal time to chase the clouds in Ta Xua is from December to March, which is winter and spring. This is the time when travellers can feel like in paradise and catch the sea of clouds.
It is possible to travel from Hanoi to Ta Xua by scooter but it is not too advisable for those who are not used to travelling by scooter. For more safety, you can take a local bus to Bac Yen, about 15 km from Ta Xua. You then rent a motorbike or book a mototaxi to Ta Xua. The easiest way is to rent a car with a driver to go directly there. From Ta Xua, travellers should turn right at the foot of the mountain, where the visibility is better than the other, which starts with the left turn and goes up to the top of the mountains the next morning.
Y Ty
At an altitude of over 2,000m, the commune of Y Tý (Bat Xat, Lao Cai) is an ideal attraction for 'cloud chasing'. You will find a fairytale village where clouds weave their way between mountains, rice terraces and traditional Ha Nhi houses giving the landscape a picturesque look! Travellers come here to spend a night with local people, to have an unforgettable experience and to immerse themselves in a sea of clouds!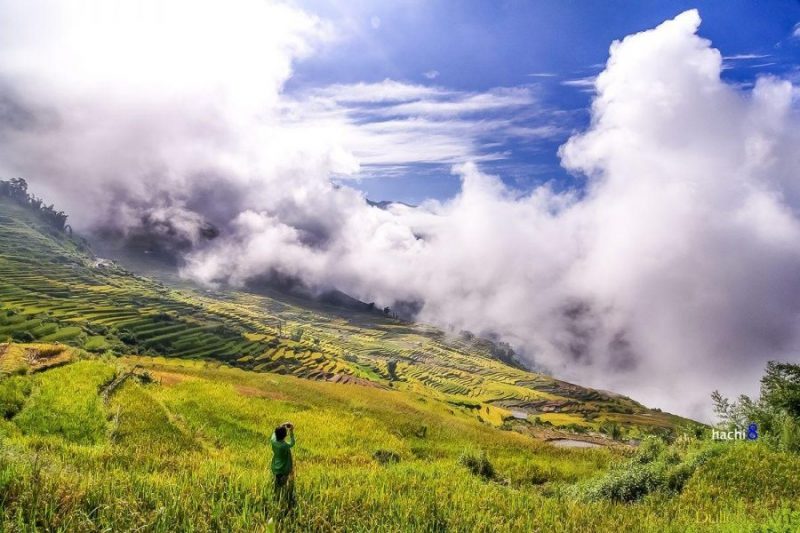 The ideal time to contemplate this fairytale phenomenon falls between September and April. Late March and early April is also the azalea flowering season. The cloud layers invade the winding roads, forests, locals' houses and mountain peaks, making the landscape incredibly attractive and poetic.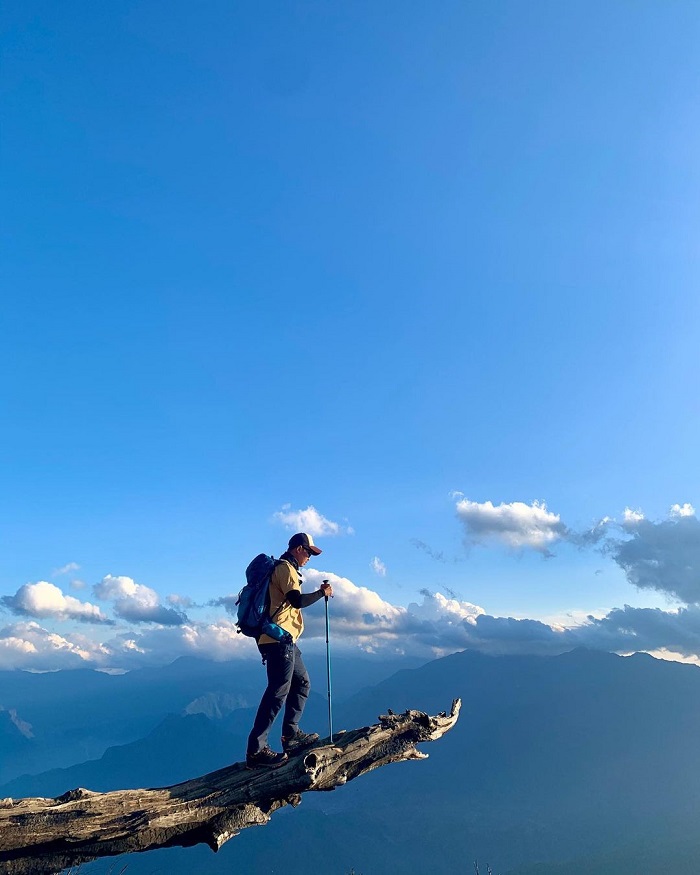 From Hanoi, it is possible to reach Lao Cai or Sapa by bus, train or car. From there, you can rent a motorbike or book motorbike taxis/car to get to Y Ty (about 3h by car).
Sin Ho 
Sin Ho town in Lai Chau province, over 2,000m above sea level and surrounded by verdant mountain ranges and clouds. In early morning, you can be overwhelmed in a sea of white clouds which is typically magical scenes in the area.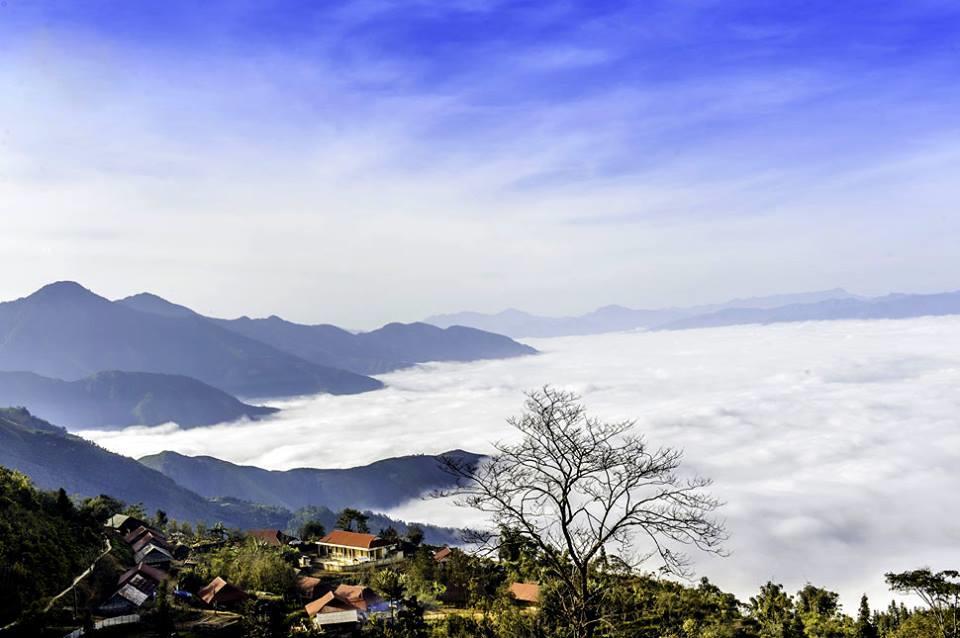 Setting a walk through the ethnic villages dotted by simple wooden houses, you can see Dao women sitting on their thresholds in their front yards or under the fruit trees sewing passionately or farmers loading up with many kinds of farm products down the roads.
Fansipan
At 3,143m, Fansipan is the highest mountain in Vietnam, as well as the highest in Indochina (Vietnam, Laos and Cambodia). In the past, it took 2-3 days of climbing to reach the top. Today, it can be conquered by taking a cable car for 15 to 20 minutes. At the top of the roof of Indochina, between the sky, the clouds and the earth, people feel tiny but proud to have conquered the highest point of Vietnam.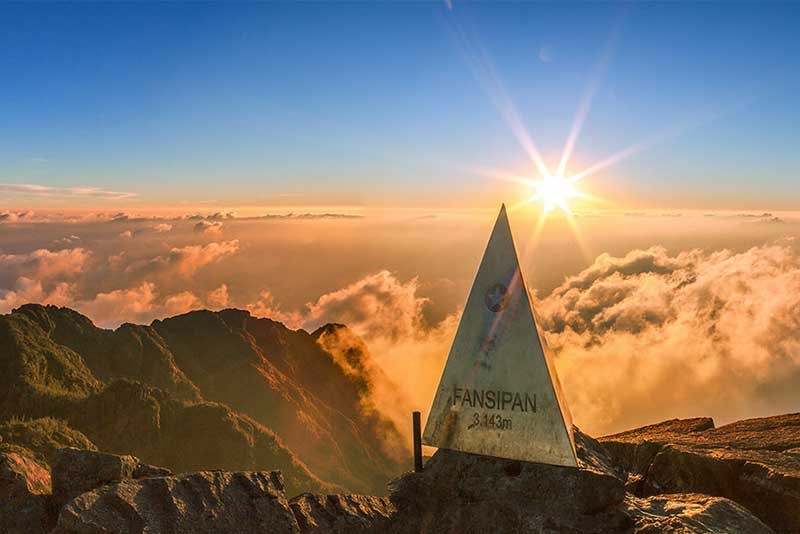 The ideal time to chase the clouds there is from September to March, but especially in early spring. You can book a bus to Sapa from Hanoi and then take motorbike taxis/taxis even on foot to reach the Fansipan area.
Hau Chu Ngai
In addition to other famous destinations for chasing clouds in Vietnam such as Fansipan, Y Ty or Bach Moc Luong Tu, Hau Chu Ngai is rarely mentioned. Because the road to village is very small and rocky. But located at an altitude of more than 1,700 m above sea level and about 7 km from the centre of Sapa town, Hau Chu Ngai village is an ideal destination for chasing clouds in Lao Cai.
Visitors can enjoy the most beautiful clouds at dawn and dusk. In the early morning, the whole village is still covered by fog and clouds, the only sound mixed with the wind is that of the rooster crowing, signalling a new day. At this time, the milky white colour of clouds covering the mountains and forests, is very attractive.
When the first rays of the sun appear, the clouds gradually melt away to reveal a high and blue sky. Wherever the sun shines, the clouds quickly melt away to reveal the pure and pristine white pear and plum blossoms. The Mong ethnic people's village brightens up brilliantly under the sun and blue sky. At that glorious dawn, the mountains, forests and clouds seem to blend together to create a fanciful and romantic picture.
Perhaps Hau Chu Ngai is suitable for those who like a slow pace of life. Just sitting and watching clouds, visitors will receive positive energy and emotion.
Bach Moc Luong Tu
With a height of 3046m, Bach Moc Luong Tu belongs to the Ky Quan San mountain range which lies between the two northern provinces of Lai Chau and Lao Cai. It is the fourth highest mountain in Vietnam after Fansipan, Pu Ta Leng and Phu Si Lung. It is also one of the most beautiful places for cloud chasing and hiking in recent times.
It can be said that "dawn on the clouds" has really become the trademark of this mountain named Bach Moc. However, the value of the beautiful scenery here is always proportional to the effort you will have to spend when conquering it. Because the topography of this peak is quite diverse and more difficult than the high mountains of other easy levels. Therefore, you need to prepare yourself a good physical base and skills before planning to participate in the conquest of this peak.
The best time to conquer this mountain is from August to April. You can book a Hanoi-Lao Cai bus and then take motorbike/taxis to reach the foot of the mountain. Since this mountain is still untouched, the only way to get to the top is by trekking 14km through the steep rocky forest trail.
Da Lat 
There are many places in Da Lat where visitors can go to camp overnight and hunt clouds, including Ankroet pink grass hill, Hon Bo peak, Thien Phuc Duc and Da Phu hills.
The most favourable time for cloud hunting in Da Lat is from 6 am to 7 am when the first rays of dawn crack over the horizon.
Chasing clouds in Vietnam and some tips
📍To have a better chance of looking at the sea of floating clouds, you should go on a day when the humidity is high and the sun is sunny, the temperature at night and day is different: quite low at night and high during the day. It is best to chase the fluffy clouds at dawn, early morning, sunrise.
📍Personal items: sleeping bags for where there is no accommodation, sufficient clothing, hats, climbing shoes, sticks, lighters, mosquito repellent, food and medical equipment… If you bring a camera, remember to choose a waterproof bag in case it is rainy and wet in the high mountains.
📍For places where trekking or long walks are required, you should prepare physically before the trip. Walk at least once a week to train or maintain your training. You need to work on your stamina by doing activities like cycling, jogging, swimming or of course walking and by adopting a suitable diet.